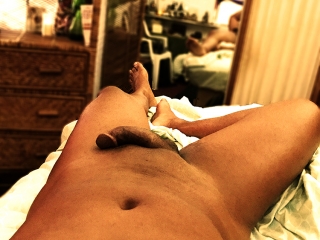 A massage from an older man turns into a suck and stroke session.
Massage Casey

A friend recommended I get a massage from an older gentleman named Casey. I was told he had very firm hands and was very warm and intuitive. I made an appointment and went to Casey's studio/apartment in the hills above the city. It was warm and light, very classy looking. I could tell Casey lived alone, but was neat and organized. The massage table was next to a large picture window with a panoramic view of the city below.

Casey asked where I hurt. I told him my neck, shoulders and back were slightly aching. He told me to get undressed and drape myself with the sheet on the table, and he'd be back to work on me. I lay on my stomach and pulled the sheet over me.

He returned and began to gently caress my back, not pushing hard at all, just feeling where the muscles were tight. He started at my neck and moved his hands along my shoulders and then down both sides of my spine. When he reached the sheet he paused a while as he felt my ass and thighs. He took a deep breath and began to slowly work out the knots he found. His fingers were strong and firm. I had to let out a moan as he found each spot and kneaded it gently.

"How's the pressure?" he asked. "Just perfect." I replied. "You have a nice body. Do you work out?" "Once in a while."

His hands moved down to my lower back, where I was very stiff. "Your glutes are tight and making your back tight." He said and dug his knuckles into my ass cheeks. I could feel what he meant. Then suddenly I could feel the sheet sliding lower. I thought for a moment it was sliding off, then I felt his hand pulling the sheet down to my thighs. He began to massage my ass, grabbing each cheek and squeezing. I was surprised but enjoying it. I felt my cock twitch a little. He started to rub the inside of my thighs, which got me very aroused. My cock was getting hard and I moved a little to give it some room.

"Are you comfortable?" he asked, and I could tell he knew what was happening. I told him I was fine, and then I felt his hand brush my balls. I moaned and he pulled the sheet off of me. He kneaded my thighs, moving up as high as he could. I was fully hard and my cock was peaking out from beneath my stomach. He brushed the head with his hand and me massaged my thighs.

"Time to turn over." He whispered. I knew where this was going. I turned over onto my back, my cock pointing straight up to my chin, pulsating with my racing heartbeat.

He teased me by massaging the front of my thighs, moving slowly higher, letting his hand just slightly rub against my cock. I was breathing hard. He massaged my chest and stomach, making my cock twitch with anticipation. He took his hands off of me for a minute. I was breathing hard, trying to maintain my composure. And then I heard him open an oil bottle, pour some onto his hand and rub his hand together. Then I felt his warm, slippery fist around my cock. He held firm and slid slowly up and down, with one hand and then the other. He seemed to be feeling the contours of my swollen cock, and enjoying it. Then he grabbed it with both hands and pressed his thumbs firmly on the underside, sliding up to the tip where he began to draw circles with both his thumbs. I let out a gasp as the sensations began to be overwhelming. He sensed I was deeply aroused and moved his attention to my balls, playing with them between his oiled fingers. Then with one hand he pulled down on my shaft, making the skin tight, and then began to stroke lightly up and down with the other hand. It was exhilarating. I arched my back in pleasure.

Then I felt his lips engulf my cock head and slide down the entire length of my shaft. The tip of his tongue darted all around the sweet spot and licked the underside. He slid my cock in and out of his mouth a few times, and then began to stroke me and suck me at the same time. I knew I wasn't going to last long. My entire body tightened up and I began to shiver, letting the waves of pleasure from my cock spread from my crotch to my hand and feet. All I could feel were the waves of energy and warmth from his hands stroking me firmly but gently. It felt almost loving the way he attended to my pleasure, and I felt helpless and submissive in his confident grip.

I knew I was not the first man he had masturbated, pleasured and massaged until their bodies dissolved in spasms of ecstasy. He had done this many, many times, and enjoyed each time, watching the faces of younger men, surrendering their bodies to him, desiring nothing else but to cum for him. I was another trophy, another man about to melt away and give him his reward – the sight of another cock pulsating rhythmically and spurting thick white drops of cum onto a heaving torso. I looked at his face, breathless, smiling, but in total control. I on the other hand was about to lose all control. I let out a groan and felt my body heave and tighten, a moment of silence and euphoria, and a great wave of release as my warm cum hit my chin and chest. Each spasm felt epic and earth-shattering. He held my cock and stroked gently until the last spasms began to subside. My cum ran down my sides onto the sheet, drizzled over his hands. He didn't move, but held my cock adoringly until it was finally still and spent, and the hardness began to subside.

He smiled broadly. "When I saw your brown body, I could not resist. I knew I would make you cum." "Thanks." I said, weakly. "Any time you want, come and see me, and I will make you cum, maybe multiple times."

"Sounds great." I said.

He wiped up my cum with the sheet. "Thank you for cumming for me." He smiled "Don't be in a rush to leave. When you're ready I'll start round two."

Just the sound of him saying that made my cock begin to swell again, to my surprise. He smiled, licked his lips and took my cock into his mouth once again.