Report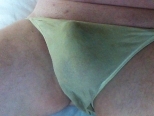 JackoffTim
Joined on:

14 Jan 2014

Last Visit:

20 Sep 2017

Gender:

Male

Relationship Status:

Married and not looking

Interested In:

Send me a Private Message.

Profile Views:

8189

Bio:

I'm straight but love masturbation and all persons that fill the same way. Send me a message. I Love jacking off why smelling used panties. I also like to use them for cum rags. I have a fascination with cum rags and like to here from others that use them. Also like jacking off to photos of underwear with cum on them.
Connect With
Recent Activity
Post Comment
Friends Comments