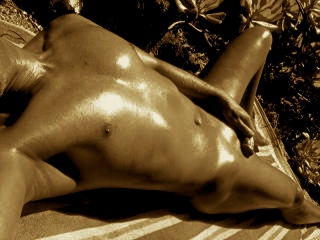 An intriguing craigslist ad led to a sexy adventure.

I saw an ad for a B&B work trade deal: house/yard work in exchange for lodging on another island. The homeowner also specified he was a nudist and requested the tenant be nude as well. I was ready for a vacation, so I contacted the guy and booked a week. His home was close to a beach where I knew I could find some secluded spots to sun nude, so it was a great deal.
The house was actually very nice. He lived upstairs and there was a guest floor downstairs, which needed some cleaning. There was a large yard which was overgrown with houseplants that had turned into trees. His name was Bobby, an older gentleman, slender and tanned. He was nude when I arrived at the door. He showed me to my quarters downstairs – a large patio opening out to the yard, and a big picture window with a view of an outdoor shower with no enclosure. I thought that was for showering after the beach, but Bobby told me that was the guest shower as there was no shower inside. He said there were no neighbors nearby so I didn't have to worry. I could even sunbathe in the nude in the yard any time.

Just the thought of that made me excited and I was ready to get naked. I asked Bobby if it was okay, and he said of course. I took off my clothes and stepped out into the yard. There was a beautiful view of the ocean, and only bushes were visible. As Bobby came out to join me, my cock was starting to stiffen. Bobby noticed and smiled. "Like it?" he asked. "This is just beautiful," I replied. "You have a beautiful cock," he said as he started to play with himself. I was fully erect and was enjoying watching him. I started to stroke myself as well right there in his backyard. I didn't know if he just wanted to cum or not; he just seemed very relaxed but didn't show any hesitation. His cock was thick and throbbing pink. He watched me the entire time.

I started to pay more attention to my cock. The warmth of the sun felt great. He started stroking faster and breathing harder. His muscles tensed and he shot out four huge loads of cum onto the grass. "That was awesome," I told him and added: "This is going to be a fun week." And it was!