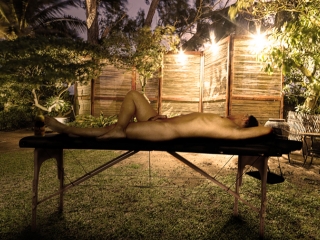 My sexual adventures staying at a nude B&B. It is barbecue day!

Fourth day at Bobby's place was more intense yard work. I wanted the yard to be clear since Bobby was hosting a BBQ that night. I cleared and hauled weeds and shrubs, mowed the lawn, and cleaned up the lawn furniture. Friends were supposed to show up at 5 but a small group had already arrived before 4, including Gwen, Lori, and Steve. They arrived with their vacation rental owner Gretchen. They showed up and immediately took off their clothes. This was a nudist gathering.

I was still in the middle of working and, since Bobby wasn't home yet, I decided to keep working and get as much done as possible. I was sweaty and covered in grass clippings and leaves, wearing only work boots and gloves. Bobby came home a little before 5, right after I finished setting up the chairs near the fire pit. He came outside and told me to call it a day and clean up for dinner. I realized my shower was right there in the yard not far from the barbeque area. I hoped no one would mind me taking a shower right there. I went inside to grab a towel. Everyone was having beers. Gwen and Lori said, "Hi." Steve shook my hand very casually even after what happened yesterday, so I figured it was all cool. I grabbed a towel and went back outside to shower in full view of everyone looking outside the picture window. I faced away from them at first but eventually had to turn around. Josh was upstairs watching me. A few others were chatting near the window while watching me shower. I dried off and headed back inside to grab a beer. "Nice shower show," Gretchen told me as she held up her glass. I just chuckled, went to hang up my towel, and grabbed a beer from the cooler.

Steve wasn't talking to anyone, so I went and made small talk with him. Josh came downstairs and formally introduced himself with a big grin on his face. I asked him how long he had been a nudist and he said ever since college. He and some friends went skinny-dipping at night and the tide washed their clothes away. They had to drive back home naked. When they got back to their condo, they had to sneak in when no one was looking. They were so excited and horny when they got inside that they all started playing with themselves. He said he never forgot that night and, since then, he prefers to be naked as much as possible. He got semi-hard while he was telling me the story and he was glad that I noticed. I'm sure he had lots more stories to tell.
We all made our way outside and enjoyed the fire pit while Bobby and Josh grilled the dinner. A couple arrived just as the sun was going down. They introduced themselves as Lenna and Reef. The locals seemed happy to see them. They were probably in their late 50s, trim and tanned. Gretchen introduced her tenants and Josh introduced me since Bobby was busy cooking. Lenna and Reef brought wine which they brought back from France.

Dinner was wonderful. Pleasant conversation and many interesting stories, some funny and some very erotic. As dinner wound down, Lenna and Reef announced that they had brought along a massage table and were going to be giving tandem massages to a few lucky people. Gretchen and Josh volunteered right away.

Reef brought out the massage table and set it up near the fire. We all gathered around sipping wine and watching Lenna and Reef massage Gretchen, loosening up her shoulders and back, for which she uttered a few grateful moans. We were all nude so there was no point in draping her with anything. I was mesmerized by how smoothly the four hands moved over her body, finding the kinks and working them out. "This is fucking awesome!" Gretchen exclaimed as they simultaneously massaged her scalp and feet.

Josh was next, and he had a similar reaction. They spent a lot of time on his legs, which seemed exceptionally tight. "Come live with me, both of you!" was his reaction.

We toasted the couple giving the massage and those receiving. Then Bobby announced there would be one more massage. Hands shot up to volunteer, but Bobby said, "No, this last one is for my hard working, yard-working guest, Kalani!" Everyone let out a drunken cheer. I took a quick sip of wine and lay on the table face down. "We'll loosen you up," Lenna said, "Just like Bobby asked."

They started working my tired shoulders and arms. I felt them pour some warmed oil on my back which helped them get deep into my muscles. I hadn't realized my entire body was sore from working so hard, head to toe. They turned me over and worked on my pecs and thighs. They started moving higher and higher on my thighs and it was getting awfully close to my cock. Then I felt a hand brush my cock and I started to stiffen. Another light brush of the fingers and then they both started to massage around my pelvis, my stomach, and inner thighs.
"Oh, this is a different kind of massage!" I tried to joke with them.

Everyone laughed, "He's been working so hard! He needs to release and relax!"

Were they really going to do it? Without a warning, Lenna's hands were stroking my cock and Reef was caressing my balls. Everyone cheered. I laughed and tried to bring my knees up, but Reef gently pushed them back down.

"Relax," he whispered.

He and Lenna began using their whole bodies on top of mine. While Lenna massaged my temples, Reef slowly slid his body up and down my torso, gripping my sides. Then he switched with Lenna who slid my cock in between her tits while she massaged my thighs. Then Reef dedicated himself to my cock, massaging the whole length of the shaft, while Lenna played with both of my nipples. I was getting excited.

I opened my eyes to see everyone watching intently. Josh was stroking himself, as was Lori. Bobby was sipping his wine and smiling. I smiled at all of them.
"This is a great party!" I managed to gasp out before I felt myself ready to cum. I inhaled, arched my back high and started shooting loads of cum onto myself and Reef's hands. There was a loud drunken cheer. I saw Josh shoot a load onto the lawn. Reef and Lenna relaxed their movements and focused on relaxing my spasming body. They gently caressed my muscles, coaxing me to unwind. My cock was still twitching and cum was dripping down my sides.
"Messy, messy boy!" Gretchen said as she ran her hand over my chest, took a sip of wine, and went to sit down.

Bobby came up to me. "How did you like it?" he asked.

"That was great." I replied.

"Thanks for all your hard work," he said as he patted my shoulder and pinched my nipple.

"Now get cleaned up."

Lenna had gone to get me a towel. I used the shower to clean up a little. I thanked Reef who came to the shower to clean his hands.

"Anytime you're in the neighborhood, just call us and we'll give you the 'special,'" he grinned. We dried off and went back to sit around the fire. There was more action later around the fire, but that's another story.