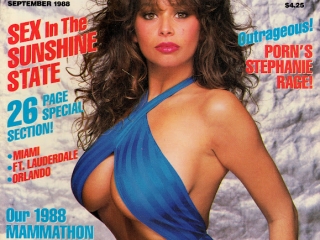 (This is the porn magazine I was looking at in Mrs. L's bed.)
I was down at the beach playing UNO with J, my best friend's kid sister, and her friend, M when the girls started giggling about walking in on their parents. J whispered that her mom had a pink bathing suit she'd never seen before. Meghan's eyes got very wide as J explained she'd gone into their bedroom to show her mom her homework and saw her come out of the master bathroom in the bathing suit, and high heels, and her dad quickly threw the covers over himself.

This instantly grabbed my attention, because Mrs. L. was the quintessential best-friend's-mom fantasy. She'd had my best friend very young, 20 or possibly 19 years old. I was 15 at the time of this conversation, so Mrs. L was mid-30s, in her sexual prime and looking very much the part. Mrs. L had very large fantasy-girl boobs and a hypnotizing ass. Her jet black hair was kept in a bob, probably because of her job as a nurse and this is when nurses wore white uniforms, with skirts.

I spent a lot of time with my friend C, J and Mrs. L, who was going through a divorce, over the summers of 1986 to 1989. We would go to the beach together, and though Mrs. L would always wear a sensible one-piece bathing suit, it didn't take much to get my teenage hormones flowing. Mrs. L would wear a big sun hat and big, glam stunner sunglasses, and walk to the beach with a bag in the crook of her right arm and a thick copy of Cosmopolitan with BIG SEX NEWS on the cover peeking out of the bag. I would walk behind her and just stare at her gorgeous ass.

So the idea of Mrs. L in something more revealing dominated my imagination as my teenage balls ramped up sperm production, and I was firing loads off three and four times a day. Mrs. L in that pink bikini and heels. Mrs. L in her nurse uniform. Mrs. L giving the hernia check before football tryouts, going down a long line of cocks, feeling every one of them, her bushy pussy getting soaking wet.

One day, after the beach trip, an older teenager who lived next door, says he saw Mrs. L and a person not named Mr. L in the hot tub on their back deck, shortly after she kicked out Mr. L. This guy liked to brag a lot, and he likely embellished how Mrs. L got plowed doggie style and took that load of cum all over her big tits, but I have no doubt he did see something, because he said she wore a hot pink bikini, the same that J had described.

My relationship with the Ls was very close. I was welcome in their home at any time, even if they were not there. In the summer, on days when I didn't work at a restaurant downtown, my mother would drive me out to the country club, which was walking distance to the Ls home, and I would spend all day there. C played golf and I didn't, so when he was out playing a round I'd either be by myself at the pool (staring at lifeguard K, back from college where she was fucking everyone in sight) or hanging out at the Ls house, playing video games or watching a movie on their VCR.

It was around the time that I learned of the bikini that C took a golf lesson and was then going to play 18 holes with another friend. I didn't want to drive the cart, so I said goodbye and later walked over to C's house. Along the way I remembered the bikini. So I went in the back sliding glass door, called out to make sure no one was home, and went upstairs to Mrs. L's bedroom.

I couldn't find the bikini, and gave up after a quick search, but I did find a pair of exciting cherry-red panties with a fringe-y crotch. I went over to the bed and shot my swim trunks down to my ankles and stepped out. My penis, which I will brag is more than 7 inches (but not 8) long was already throbbing hard and a deep shade of purple.

I lay on Mrs. L's side of the bed and smelled her hair on her pillow, I rolled over to take in her scent as I pumped my stripling cock with her sexy panties. I'm a mattress humper, because it's also easier to look at porn that way. C's dad had moved out earlier that spring, but his porn stash was still in the house. Like right in the bedside table on his side of the bed. I fished out an old, favored copy of Cheri, turned to my favorite girl, and started rubbing my penis up and down the length of the mattress where Mrs. L slept.

It was then that I turned my head to the side and noticed the upright vacuum cleaner, which hadn't been put back in the closet. (Mrs L did have kind of a messy bedroom). It had a hose attachment A devilish thought went through my head. I went into Mrs. L's bathroom and found some lube and I wiped out the interior of that hose, lubricated my penis, slid it into the hose and hit the power.

Holy shit.

I'd never done anything like this before but I had a new favorite pastime now. My penis and scrotum completely filled the hose and the suction was tremendous. I spent at least seven minutes with the vacuum cleaner sucking my dick, adjusting it so the force didn't get too strong over too prolonged a period of time.

Then I hit the power and decided to finish up on Mrs. L's panties. I got on my knees in her bed, laid her panties on her pillow, and turned the Cheri back to the centerfold. In no time I had coaxed out thick, hot blobs of my jizz all over Mrs. L's panties.

I got up to go to the bathroom and put Mrs. L's cum-stained panties in the middle of the hamper. I wiped myself off and walked back to my swim trunks, passing by the bedroom window, where I froze solid.

Mrs. L's car was parked in the driveway. She must have come home for a late lunch? My mind raced and a cold feeling developed in my stomach. I had no lie that would explain why I was upstairs, in her bedroom, running her vacuum cleaner. It was plainly obvious what I'd been doing and there was no way she didn't hear it. I didn't hear her come in or call out because of the noise of the vacuum, and apparently she knew what was going on and didn't want to humiliate me by catching me in flagrante delicto with the Hoover.

Shaking with fear and embarrassment, I realized I had to meet my fate somehow. There would be no way I could avoid Mrs. L for the rest of my teenage years. More immediately, there was no way I could walk out of this house without at least acknowledging she was there. So I went downstairs.

"Hey Mrs. L," I said, feigning normalcy, but my voice quivering.

"Hello," she said, very deliberately, in a tone she never used with me. I wanted to jump off a bridge. I tried to play it off, went to the pantry and absent-mindedly grabbed a box of cereal. "Cereal at 3 p.m.?" Mrs. L said, not looking up from her magazine as she finished a bowl of soup.

"Yeah, you're right, I'm not really hungry," I said. Why was she not demanding answers for what I had been doing upstairs? It was incredible torture. I went to the couch that separated the den from the kitchen and sat down, mostly because I would have my back to Mrs. L at the kitchen table and wouldn't have to look at her. I turned on some afternoon cartoon and feigned interest in it.

After the longest and most awkward silence between us, Mrs. L got up, put her dishes in the sink, and walked upstairs. Surely, this would trigger the confrontation. I heard her walk back and forth overhead, into the bathroom, then back out. I heard the plastic wheels of the vacuum cleaner grinding over the floor as she dragged it back into the closet.

Mrs. L slowly came back downstairs. I couldn't look her in the eye. I stared directly ahead at the cartoon as she came up behind me. She softly put both of her hands on the couch cushions, one beside each shoulder.

She was very, very strongly perfumed.

I felt the zipper from her nurse uniform touch the back of my neck as Mrs. L leaned forward and then pressed her wonderful, fantastic, lusty, busty, buxom big bouncy boobs into my neck. With her massive big centerfold fantasy tits straddling my neck, she slowly raked them up and down the nape of my neck. My penis surged with desire in my swim trunks, but I sat there utterly petrified, not knowing what would happen next, whether I should say a word or make a move or pray that space aliens would beam me out of there. I had no idea what I had gotten myself into. The Real Mrs. L was making it clear she was so, so much more than some teenage boy could handle.

She stopped rubbing her tits on my neck and then leaned down, and in the breathiest, Marilyn Monroe-iest tone, whispered, "I will not be home until 5:30." lingering on each syllable.

Then she slowly disengaged her cleavage from my neck, turned, and walked out of the house. I swear my pupils dilated and I saw stars as I waited to hear her car start and pull out of the driveway. My heart was pounding.

I looked at the clock. I told C I'd wait for him back at the pro shop around 4:45, expecting him to be done with his golf lesson and round at 5. I did another mental check of J's whereabouts. She was at a summer day camp downtown, and would be picked up by Mrs. L after work.

I started calming down, but I locked every door in the house and then stripped nude. My teenage cock bobbed up and down as I ascended the stairs once more, my big cum-filled balls bouncing and ready to burst a huge hot load of horny teenager juice all over Mrs. L's bed and sexy things.

In her bedroom, the comforter had been drawn over the mattress. I threw it aside to get in Mrs. L's bed and there it was.

The hot pink bikini. A metallic hot pink bikini.

The bottoms were arrayed in the middle of three pairs underneath the covers, flanked by a black lace pair of panties and a cool, satiny cheetah-print pair. The Cheri was next to them, and on top of it was an index card. I flipped it over and, written in lipstick was one word: "Enjoy!"

Yes ma'am.

I spent the next 45 minutes masturbating with Mrs. L's lingerie, feeling absolutely liberated from the need to disguise or clean up what would assuredly be the greatest-ever series of cumshots in a prolific teenage masturbation career.

And they were.

The first to get my load were the hot pink bottoms. The glossy, metallic fabric didn't absorb the cum, but I as I laid it on the bed and crouched over it, I saw my cock throb and the head flare out and a thick gusher of jizz blast over it and the mattress, pooling in the wrinkles of the bottoms and running off when I moved them.

After a very short refractory period, I leaned back for the lace pair, pumping them up and down my shaft as I growled and moaned. "Oh yeah Mrs. L!" I groaned as the cum fountained out, flowing over my hand and the naughty lace.

Gasping and panting, I reached for the cheetah print pair and started jerking off into them, willing myself back to hardness. It took a long time and some deep breathing but I never broke stride, and now I was in a good stroke. I stood up, opened the Cheri to the centerfold and, stroking with the panties, fired out two final streams of cum over the glossy pictures.

I figured if Mrs. L was giving me license to have sexy fun with her underthings there was no point to cleaning up. I left the magazine there, open, with my jizz wrinkling the pages, and piled the three panties on top of it. I took the metallic bikini bottoms and dabbed off the last drops of cum from my pee slit.

Four orgasms. Even for a teenager, there was nothing left in my balls. She got every drop, every spurt, every rope, every flaming hot blob of cum I could shoot.

Then I took the note card over to her vanity, turned it over and wrote in lipstick "Thank you!!!" and left a stupid smiley face beside it. I put all of this on her mattress and pulled the comforter over it.

I went out to the country club to be there when C finished his round of golf, and to keep him occupied past 5:30, when his mom would come home, see my work and remove it to a safe part of the bedroom.

The come-down wasn't the usual paranoia and guilt I had every time I jerked off. I felt empowered to masturbate and to fantasize about anyone or anything I wanted.

Mrs. L was in retrospect an unbelievably shrewd, sexual woman. She was in her mid-30s and going through a divorce, and obviously wanted and needed sex badly. Yet doing anything with her son's teenage friend would be life-ruining for both of us, if exposed. Passively encouraging me to beat off into her lingerie was a stroke (heh) of genius, because there was plausible deniability throughout except for the note card, I suppose.

But we never discussed it. Ever. And, possibly her intent, I stopped beating off in her bed, having no way to top this experience. I did have one fling with a plain pair of panties for old time's sake toward the end of the summer, but that was it. I think we understood that this encounter was not something that could be used as leverage, because threatening to tell someone about it would raise the other end of an embarrassing story, and leave both in jeopardy of being disbelieved.

Mrs. L did make one subtle reference, or at least I think it was, later. After I'd gotten my driver's license I had the means of driving to a convenience store where I knew a clerk who would sell me porn. Mrs. L asked me how I liked driving, and I said it was really liberating because now I could go to stores and buy things on my own. Then I got bold.

"In fact, I think I'm going to go to the mini-mart to buy a Playboy," I said with bravado.

Mrs. L. looked me dead in the eye and grinned. "Enjoy!" she said.