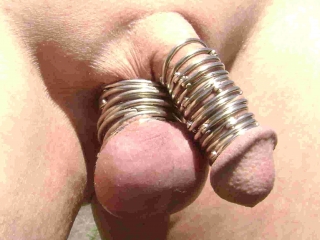 My enjoyment of public exhibitionism is enhanced by wearing special adornments and sharing my enjoyment with my viewers!
Placing rings on my ball sack and penis is a great way to start my day as an exhibitionist. I like the look and feel of the cold steel rings as they hold me firmly, warming to my touch.

Seeking a public place, yet somewhat secluded, I wait for someone to come by and see what I have to offer. My favorite adudience is young women, who I think are surprised to see what a "dressed" penis and balls look like! Especially in public as I show off my "jewels" and masturbate for them.

As my penis swells and becomes the showpiece of my exhibitionism, I enjoy stroking and feeling the familiar urges that compel me to expose myself to these young ladies.

I usually enjoy exposing to several of the ladies before I finish my masturbation activities and finally cum to an exciting conclusion, hopefully in view of another young lady!

While I hate to leave early, I need to finish up and dress myself, not lingering too long for the off-chance that someone will inform the authorites as to what I'm "up" to!