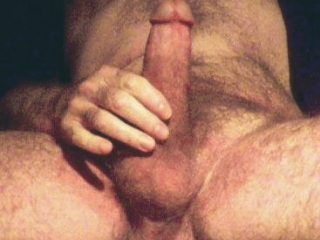 A Solo Touch encounter between friends.
Here I am; 7:25am early for me, but a service call to repair my A/C is scheduled between 8:00 and noon so I need to get my emails and other business out of the way before the tech gets here. My wife just left for work, and I am alone. What else to do, but to log into Solo Touch and see who may be around. I sign in, enter, and there he is.

He, this guy I met more than a year ago on another chat siht. We had connected and chatted, sharing stories as well as fantasies, and those wifely reluctances that tend to evolve in marriage and develop with age. Well, anyway, to make a longer introduction shorter, sticky-finger chatting led to phoning; and several hot, intense conversations exploded into several hot, intense spurting. Sadly, that website went down, and the hunt for another began, but ended with Solo Touch. Checking my inbox at the site one morning, I got this question from an ID that rang a bell: Are you the stiffandwet that used to be on ? And I replied: Yes; I am Eddie. Are you ? Yea! And the anticipation continued to grow over several months until we finally connected this morning!

I see that four of my friends are online. I click; he is one of them. I click again. Well, well, well, I type. And and and he replies. My spongy cock, tucked away beneath my boxer briefs and ragged jeans pulses a bit! He and I exchange a few niceties, and I learn that he is naked at his desk, but for his robe is massaging his piss slit. My cock jumps. He writes that he doesn't have much time, that his wife is about ready to get up; and he doesn't want to be caught, as he's almost been caught in the past. I learn that since we last phoned months and months ago, he now works from his home, as does his wife. Damn, I type; realizing that my cock is now erect! I want to beat off with him so badly. I want to hear his sighs, his breathing, his panting; I want to hear the gluey staccato I used to hear when he would put the phone next to his shaft while he stroked. However, we both are encapsulated me by the fact that I am fully dressed and waiting for my scheduled interrupter, and he by his soon to arise wife.

I type that I want to get him off. I want him to spread his robe, spread his legs and let me kneel between them. He writes back that he wants me to come with him. He is oozing; he is tasting his juices. Then, out of my many recollections, I recall that it is in giving that we receive. My fingers move across the keys.

He sees me naked, crouched between his knees. With one hand, he fumbles at the keyboard, while his other fondles and kneads his penis. His cock is slick with precum and saliva. My tongue reaches up, and I let his balls drop against my lips as I tantalize him, lapping between his scrotum and his thighs. I sense him tighten, his sack pulls inward, the once thin, capillaried flesh now thickening. Full strokes are in motion, very slow, very methodical. His legs stretch forward; his toes curl. I know hes reaching that ecstatic crossover when even if his wife entered the room, he would not want, let alone be able to stop. I kneel up higher; my lips caress the engorged veins of his darkening glans. He pumps; a leg jerks. The muscles of his thighs are taut. I glance up at him. His robe is completely open. His nipples firm, poking through the satin hairs of his chest. His head is back; his eyes closed. He is lost! Fully up on my knees, my own swollen cock drooling, I engulf him; and letting go of himself, he thrusts to and fro, fucking my mouth without mercy. I grab his hips, and he repeatedly lunges; but I take him. I let him abuse my mouth; I let him jab at my throat. I want him; I want him to release, to spurt

Eddie, I'm close. I'm gonna mmmmmmmm. The typed spasms pop up on our private chat window. That's it, buddy! That's it; blow your wad for me; shoot on my face! I encourage. There is a long, silent pause. He writes back, thanks me, and asks if I came. I tell him, no, and he wants to get me off. I remind him of the time and that I respect his situation, and that he needs to be wary of his wife's presence.

I stare up at him, still kneeling between his legs. Several ropes of semen stripe his chest. His fingers still glisten against soft, wrinkled flesh. He smiles at me.

Reluctantly, he agrees, and I tell him that there will be many more opportunities. I need to shower, he types. Maybe I'll just jack off again, thinking about us next time. He is relaxed, and he is ready to face the day! As for me, my boxer briefs are damp. I squeeze the mound at my crotch. The doorbell chimes.