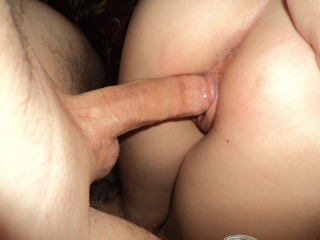 After a day of being all alone at home masturbating, cumming, and playing with my anus and rectum I was still horny as hell. I couldn't wait for my wife to get home and have a good time after dinner.

After a day of being all alone at home and masturbating cumming and playing with my anus and rectum I was still horny as hell, couldn't wait for my wife to get home and have a good time after dinner.

Okay, so my day started as usual. All alone in the morning, doing my thing in the chair. Using my toys, assorted lubes, and gels, I had a great time. I masturbated and did anal with other toys, all homemade of course. The day went as usual, wife up and around, me doing things outside and other chores. She had to go out for the afternoon and I knew what that meant, more alone time....just perfect. I fantasized what I was going to do. The fact that no one would bother me and I wouldn't get interrupted.

She leaves and I go to work on my cock, sitting in the chair after a shower and enema to clean out my rectum. Sitting there wrapped in my robe, cock getting hard just thinking of what was to come. I got out all I needed, toys and lubes. I laid back and got ready to apply them to my cock, stroking it and watching it grow. I could feel the emotions and feelings inside of me as I started to fantasize. First about my neighbor standing over me with her pussy just touching the tip of my cock. This brought immediate precum out of my cock, no need to put any lubes on right now. The foreskin got a complete pull down as I rubbed the precum all over the tip. It was not wet enough to play with my cock with just two fingers as more and more precum came out.

I then went to the reality and the fantasy of my niece standing in front of me, also naked, as she turned around with her back to me. She sat down on my cock, making it go right in her wet pussy. She loved that and I loved the fantasy of her doing it to me like when she visited me. Oh, the cum was filling my tip. I touched it and got enough on my finger and licked my finger clean. I was on a roll now, I could feel my body ready as I worked my skin up and down, harder and harder. I was ready to explode and shoot all over. But I wasn't ready for it just yet. I pulled the foreskin all the way down and held it tight, this made the feelings subside. I now took the lube and filled my hands with KY, rubbing them together. My hands were full as I rubbed my asshole and balls, spreading it all over my body. I stayed away from my cock, I didn't want the jelly to take the taste of the cum away.
My next thing was the anal play, I got my file handle, bought specially for my desires. It fits perfect. I lubed it up and in it went, slowly. I could feel my prostrate being touched and my cock came alive even more. I rubbed more gel on my balls. Now I took the personal lube and drizzled that all over my balls. It made things even messier, the messier the better. I was moving the handle in and out my cock, which was twitching. I was ready to cum but I didn't want to. I just wanted to edge, bringing myself to the top of the emotions at least four or five times first.

Now for the best part, I loaded my hands with gel and lube again and rubbed my cock full of it. It was now so wet and slippery, getting harder and harder as I played with the tip, just the tip. Rubbing it slowly I could feel it getting ready to cum all over me. I pulled the foreskin up and let go as I came big time in my foreskin. It filled my foreskin almost coming out of the top, which I had pinched off, not wanting to lose any of it. I held it tight so it didn't come out. I could tell it was full as I squeezed the foreskin, making sure that all the cum went around the tip making it all wet. I slowly loosened my fingers as the cum oozed out and I caught it in my hand. Now I could lick my hands of my cum. It tasted hot and good and there was plenty of it after edging for so long. I then rubbed it all over me, adding it to the lube and gel. What a mess on my body. I went and put on my thong underwear and let it dry on my body, the smell was invigorating.


Okay, fast forward to the night. My wife on the couch reading her book. I looked at her and got a hard-on thinking of that afternoon. I told her to get ready, I wanted to fuck her. She replied "Yeah right" and dismissed me as usual. I went into the bedroom and got undressed. I put on my robe, came out, and slowly opened the robe in front of her. I was naked as a jay bird, she looked and turned away. I had already put some lube on my cock, I told her to get ready and put on the robe that I left on the bed for her.

As she did this I went and got the toys ready, including the KY and personal lube. I also got out her favorite vibrator. Since I introduced her to this toy she loves it. As I am in her she puts it on her clit and rubs away. I can feel it as she cums and cums all over the both of us. But still NO squirting, not yet anyway. Well she was getting ready, washing her pussy. I was lubing myself up again, making sure that my cock was ready at a minute's notice to enter her, making my body hot. She puts on the robe that I had taken out of the closet, it was a fleece robe, soft and subtle to the touch and feel.

I stand in front of her and just touch her neck, she goes wild. I then open the robe and go near her breasts and touch her nipples. Now she goes into the female defensive mode, arms across her chest, blocking me from touching her nipples and tits. I put my hand down and find her pussy, which I have been rubbing with my cock. I slide my fingers into it and she fucking cums right there on the spot, no warning, nothing. She just cums and has an orgasm, cum running down and out of her pussy. Now she is really wet. I drop my robe and gently take hers off, dropping it to the floor. She stands there for a minute and then pulls me close, making my cock touch her pussy. Then without and hesitation, she grabs my cock and slowly moves it against her pussy, she is wet and so am I. Only she is wet from cum and I am wet from lube. She lifts her leg and puts it on the bed, giving me clear access to her pussy. I slowly start touching her clit. She moves my cock back and forth across her clit, moaning sighs of ecstasy as she does. I have no complaints as she cums and cums all over us.

I move her closer to the bed and sit her down on the edge. I get on my knees on the floor, she knows what is next. I start to lick her breasts and suck on her nipples, which are now hard. I then start to kiss her belly, working my way down to her pussy. I have been playing with it with my fingers all the time and as I get there with my face she opens her legs. I put her feet on my shoulders and in I go, putting my tongue in it all the way, licking and sucking nonstop. She is getting wetter and wetter as she has one orgasm after another. My hands are wet from cum and lube as I rub her tits, I stop eating and sucking. I take my hands and put them in her pussy, not just one or two fingers, but now I have my entire hand in her. Never has she let this happen. I actually had all my fingers in her pussy. It was so wide open, never before did this happen. I scoop up all the cum I can take my hand and rub it all over her ass crack, making sure that I put a lot on her asshole. She is going wild like I've never seen. I take my finger and slowly rub her asshole. I gently push it in just a little as I lick her and now she is cumming more and more. More cum for me to use on her and me. I take what I can and rub it all over my cock. I take her hands and put them around my cock and tell her to masturbate me. I actually have to show her and tell her what to do, as this is out of her realm, she is not one to play with my cock but now it is so wet. I stick it back into her as far as it can go hitting her cervix. I love that feeling and so does she. As I pull it out and push it back in, harder each time, making for more cum. I tell her to stand next to the bed facing it and put one foot on the mattress. As he does her pussy opens wide to me. I enter her from behind, sticking my cock into her soaking wet pussy. Oh what a feeling. She plays with her clit as I push my cock into her, moving it in and out slowly, just the tip of my cock making contact with her pussy now. This drives her wild and I know it, I don't stop till she cums again and again all over her and me. Then she starts to squirt right there all over as I fuck her hard.

We go on like this for a while and then she begs me to get on top of her. So I move her to a different position on the bed, pick up her legs and stick my cock in her pussy, moving in and out. As I come out I take the tip and shaft of my cock and rub her clit slowly, just moving back and forth on top of her. This drives her wilder and wilder. Then I stick it in and jam it all the way in as far as it can go. She is till cumming like crazy. We are both so wet. So is the bed and the towel we are on.

She begs me to cum. She wants to feel my love seeds now, but as hard as I try I cannot make myself cum yet. My body wants to but I just can't. I take my cock out and start to masturbate myself, rubbing my head up against her pussy and clit, she is cumming and I am getting more turned on by this feeling. She grabs my balls and squeezes them as I work my cock with my hand then all of a sudden I can feel my cock getting ready and I stick it in her and cum like gangbusters, four, five, six different shots of sperm into her pussy. She orgasms again. I then stuck my cock back into her pussy as she came again all over us....

What a night this was. Just the Grandfather clock strikes midnight, I then realize we have been at this for over an hour. She laid in my arms for a while, then got up to shower, but not before I licked her clean, all the cum and my sperm that I could get out of the pussy I had just fucked and eaten. She showered and put on a night gown, a sexy one. I just put on my sleeping shorts, no shower for me. I wanted that cum to dry on my cock so I could smell it in the morning.

When I got up I could smell the dry cum all over me. It was a great smell. I pulled my foreskin back, touched the tip and it was still wet from last night. I rubbed the tip with my forefingers and that started me to get hard again. I smelled my fingers and there was the beautiful smell of our cum mingled together on my cock. I went outside for the paper, stopped to pee as usual, lifted my shorts away from my cock and pissed right there in the front of the house. It felt so good, the weather is warm here, so no problem being dressed like that. I thought I might see my neighbor, but not that morning so I went back inside, dropped my shorts on the floor and took care of business in my chair.

The thoughts of the day and night still fresh in my mind. It didn't take long to get a hardon, the precum flowed almost instantly. I rubbed it all over the tip of my cock. As I was doing that more precum came out, making it easier for me to move my foreskin up and down. Well, after that it didn't take long and I started to feel the cum on its way. I waited until the last minute, my body getting ready to explode with cum all over, so I pulled up my foreskin, pinched it off, and bam. It filled right up as my body had one of the biggest orgasms ever. There was so much cum in my foreskin. It wouldn't hold it as it came out all over my hands, cock and balls. What a mess. There it was, dripping out all over me so I just let it go. The pressure had stopped, but the amount of cum was just amazing. I guess all that playing and fucking made it even more exciting to my body. I rubbed it all over, not that it wasn't already then. I licked my hands and fingers clean of the rest of my cum. It was well worth it. I just stay there and let it dry naturally all over me and especially on my cock so I could touch, taste, and feel it later.