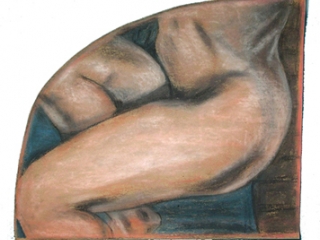 Things we did a few days ago.
My wife, Christine, and I have been mutually masturbating for thirty years. One night she lay face down with her round creamy white ass raised up on pillows and I spent time massaging her thighs and bottom. Next I lubed up some fingers and slid them between her buttocks and slowly stroked up and down within the cleft, lingering over her puckered anal whorl until it was silky and relaxed. For the next ten minutes or so my middle finger was within the silky ring sliding in and out and swirling around. I was soon aware of twitching sphincters and clenching cheeks.

When she turned over her clit was protruding and as hard as ever, about the size of the first joint of my thumb. I'm so used to what she likes and needs but sometimes her hand goes over mine just to briefly indicate a new and urgent desire for change of speed or pressure. I rubbed across her stiff clit stem from side to side with just one finger touching, sometimes my thumb resting on her pubis. I sometimes vibrated my fingertip at right-angles and at other times slid two fingers up and down on either side of her clit, a practice she has adopted from a girlfriend. I also squeezed it and wanked it so the clitoral head moved in and out. I paused or speeded up to sustain and maximize the pleasure of masturbation.

As usual she wanted and needed first one then later two fingers within her anus to stimulate her anal ring muscles which, for my wife at least, are highly erogenous. Eventually her hips began to thrust and it was time for her clit to be rubbed hard and fast without stopping. When she first came the spasms lasted ages as I kept my hand held firm just pressing, her hips bucking, her clit pulsing and her anus contracting tightly on my fingers. As she came her legs straightened, the muscles stood out on the tops of her thighs, her toes curled up and then her legs shook. She was holding her breath and then gasping.

As she is multi-orgasmic I brought her to the peak ten times before I tried something we had not used for some time. This was a lady's silk glove, which though a tight fit, I could just manage to pull on. I told her the glove was being worn by a classy and very sexy middle-aged woman we knew and often fantasized about called Marlene. The glove was dry but the effect was amazing. The next few frenzied orgasms were out of this world with such powerful convulsions and everything pulsating wildly as I talked to her as Marlene might have done as she applied the silk fingers. Christine couldn't get enough and there was no stopping, each orgasm coming only seconds after the one before. She put her hand over mine to make it move sooner, faster or harder. Now totally aroused she took the glove for her own right hand and I knelt between her thighs which were now wide apart and with her knees bent. As she continued to masturbate with the glove I was able to massage her contracting anal sphincters every time she climaxed. Eventually she asked me to penetrate her ass with her slim pink vibe instead of my fingers.

When satiated my wife put on the silk glove, now wet with cum, sat astride me facing my feet and held my hard throbbing penis with thumb and two fingers. She used her fingers in ways she knows to give pleasure and to make it last. When I wanted to come she slid the pointer finger of the other hand into my asshole and wanked me with the gloved hand until I ejaculated streams of semen all over her belly.