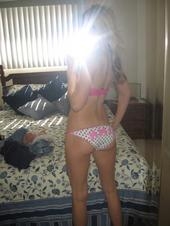 My wife and I worked at the same place and asked one of the girls there to babysit for us.
Real story from when I was married. My wife got me on at her job and we usually worked different shifts. Sometimes they would overlap a few hours so we asked one of the younger girls if she wanted to make extra cash. She was 18 with tiny breast to match her tiny body.
We had always been flirty with each other. I usually got home first and would drive her home around the corner. She wanted to hang out a few times and I let her.
One Friday evening I got home and she wanted to hang out. My wife was working late and I said ok. I'm not even sure who started it but we started making out. I led her to my bed and had her strip for me. I love watching girls jill, so I explained we couldn't have intercourse but I'd love to watch her. Soon I watched this hot girl orgasm on my bed. I came on her stomach. I wanted in her but instead I placed my hand on her pussy and rubbed her clit and fingered her very tight hole. She came for me. I drove her home and she jacked me off in her drive way.
I can't put what happened the following nights on this website, but she loved jilling for me and I usually made her. I asked my wife if we could have a threesome with our babysitter which she quickly turned down. Fun times