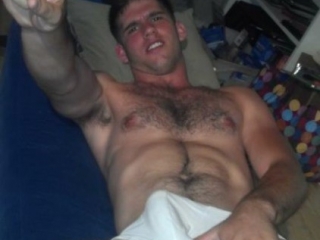 Luke is a horny college kid who can't hold back from stroking his cock in the hostel on a summer trip.
Name: Luke

Body: short, slim, smooth

Cock: 7", uncut

Ethnicity: White, brown hair

Age: 19

Backpacking is a huge hobby of mine. Ever since I was a little kid I loved being out in the woods walking around finding my way. I guess I can be pretty shy, so I've always enjoyed the solitude that being out in nature allowed me to have. When I started college last fall I didn't have much time to get out, except for an odd weekend here or there, so I decided to spend the summer after my freshman year backpacking all around the western US. I went from park to park, staying wherever I could and having a great time. One night, however, things got way more awesome in a hostel in Colorado.

It was the middle of the night. Everyone else was asleep. I could hear the soft snores of the nine other guys in the room and fell back on the pillow with a sigh. I was so incredibly horny. For three weeks I had been living in dorms and bunks, sharing bathrooms and totally unable to find a little time alone to shoot off a few wads. It didn't help that every day I was around dozens of hot guys with their shirts off, sweating, showering, undressing. I was fucking losing it.

An hour later I was still awake. Jesus, it was hot. I reached under the thin sheet covering me and pulled my shorts off. It felt good to be secretly naked in this room full of other guys. I wondered how many of them might have been naked too. Instantly my cock sprang up at the thought. Too horny to resist, I let my fingers run up the length of my shaft. My cock jumped and spat out gobs of pre. Slowly I wrapped my whole fist around it and began long strokes up and down, trying not to rustle the sheets.

Up and down, it felt so good. I thought of earlier that day. I was by a tree taking a piss. As I was finishing up a guy I had met earlier named Sean came up beside me and unzipped his shorts. He started talking to me, but all I could think about was what I was seeing: he wasn't wearing underwear. His whole manhood, balls and all, fell out of his fly as he reached for his dick to take a leak. My eyes were glued to his meat – it had to have been at least five inches, soft – tracing up its length, musing over the mat of bright red pubic hair all around it. I quickly stuffed myself back into my pants so he wouldn't see me getting hard. It seemed to be happening in slow motion, the loud stream of piss shooting out of his thick, pink cockhead. Then, as suddenly as it began, it was over, and he shook the last few drops out and zipped his shorts back up as we walked back together.

Thinking of Sean had made my dick dribble precum like all get out, and my shaft was really slick. As soon as I started to really get into it I heard a voice from the bed across from mine.

"You jacking off, man?"

I froze. Shit – I had been caught! For a moment I thought I could just pretend like I was asleep, but there was no way he would believe that. I decided to own up to it.

"Yeah," then a wild thought, "you wanna..."

He finished my sentence, "Wanna do it together?

My voice was hoarse as I replied, "Yeah"

As soon as I spoke he threw off the sheet covering him and sat up to his side. He sat with his legs over the side of his bed, facing me. He was as naked as I was, and just as hard. Slowly, he began to stroke his meat. Without wasting any time I sat up to face him too. Sitting across from each other with our cocks pointing north, I was able to get a good look at him. His name was Scott. In every way his body seemed to be in contrast to mine. While I was a little short for a guy, he was well over six foot; while my body was lean and chiselled, his muscles were strapped on to his broad frame like padding; While my foreskin lay flat and thin against my cock, his was like a blanket wrapped around his dick, which looked to have a good half inch on my healthy seven.

We sat like this, steadily working our dicks, for a while. Every so often we would look at each other and crack a smile. Mostly we would just look at each other. I could feel his eyes on my body, studying me, waiting for any signs that I was getting close. For my part, my eyes were fixed on him. The blue moonlight made the contours of his muscles stand out like nothing else. I couldn't stop looking at his thick thighs, how they led to his thick, beautiful meat and a dense bush of wiry black hairs.

We kept stroking. Soon, our breathing got louder and more irregular. Scott rolled back his head, his shaggy black hair falling on his shoulders. I wrapped both hands around my drooling cock, pumping to the sight of him getting closer. Every one of his huge muscles flexed and un-flexed with each stroke. Suddenly, he whipped his head up.

"I'm gonna nut, man!" he whispered.

"Hold on, I'm almost there."

"C-can't wait. I'm cumming!"

Scott pointed his huge dick straight at me and, with a low groan, shot a rope of cum all the way across the aisle to my leg. Shot after shot landed on the floor with the last oozing down his cock and onto his hairy balls.

­­­I was more than ready after that. I jerked my dick at lightning speed. I could actually feel my balls churning. It was gonna be huge.

"Yeah, man. Go for it." Scott encouraged. I screwed up my face and shot one of my biggest loads ever. The first shot went over my shoulder. Before I was finished I had coated my face, chest, and pubes.

"Alright, man! Shoot it all out!"

Scott and I sat panting after our intense cums, both of us still holding our spent cocks. After a minute or so we laid back down and said our goodnights. I was feeling extremely satisfied and on the edge of sleep when I heard the familiar grunt of a guy blowing his load and the pitter-patter of jizz on a bare chest in a bed down the row. Looked like we started something.