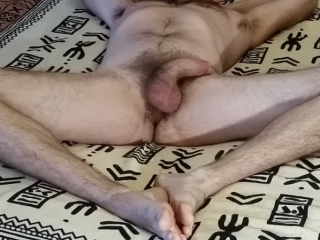 one of my best playdates was a few years ago in my late forties with a 20-something hot ginger guy. 

We met through craigslist, I had seen him on CL for a while, either he would respond to my ad or he would put an ad. He lived a few miles away and we had communicated but there was always some reason for us to not get together, always his side not willing or chickening out. I understand, it is hard for "straight" guys to meet with guys, wether it is nerves or embarassment, add in the large age difference, I am ok with it, but he finally agrees to meet so we do and he's just my type of hot; around my height, a little scruffy, very masculine, great thin body in a sexy runner's sort of way, and freckles with red hair hanging in his face. We feel comfortable talking a bit about expectations and what we like, so he follows my motorcycle in his truck to my house.
Once inside, we tie up the dog so as to not bug us, and we get ourselves naked in my bedroom. I am not one to get erect right away, but was getting a little stiff after seeing his balls under his ass crack when he pulled his underwear off his feet. Sexy ass, nice trimmed but full bush, sweet pink nipples and a gorgeous pasty white body with just enough fur in his pits, nice treasure trail, and a light amount of chest hair. I offer a full massage, though I am not a professional, i do find young guys enjoy the touch, as they seem to be lacking this stimulation. I also love to view this hot body submitting to my touch and it gives us a comfortable time to talk about ourselves, getting to know each other a little. After about 25 minutes of back massage (head, ears, arms, back, butt, legs), I am ready to massage his front, and he rolls over exposing a full, beautiful erection with a gorgeous pink head.

I wanted to stuff it in my mouth right away, but I resisted and massaged his arms, chest, stomach, thighs, legs, down to his feet, avoiding that amazing cock, but drinking in the view of his shaft, balls, and slightly furry taint. I finally ask if he wants a happy ending, and he growls yes, so since i was down by his feet, i work my tongue up his inner thighs to his balls, licking them individually and sucking them into my warm mouth, licking his taint while each ball is in my mouth. Without touching his cock with my hand, I work my tongue to his shaft, licking from his balls to the tip, tasting a few sweet drops of pre-cum, licking with my tongue and slowly up and down the shaft with my lips and tongue. As his erection jumps with anticipation and lust, I finally suck him in, working him up and down, nose sniffing his pubes while his head tickles my throat, in and out, sucking, stroking, and licking until i stroke several beautiful, gooey cum shots onto his belly, shooting up to his chin and coating his chest ...

Unexpectedly, he offered to reciprocate. Who am I to deny this satisfaction, but honestly i was shocked this straight hot guy would offer, so i figure he is only going to stroke me, which he did with exceptional skill, working my fat cock into a massive erection. Now here I get even more surprised, when he bends down and sucks me into his skilled warm mouth, and though he is amazing, it wasn't as strong as his hands, so I lost a little bit of the erection, which he noticed and started stroking again. He did this stroking and then sucking thing many times, working me to the edge several times, knowing my limits easily, as I am very noisy, moaning and expressing my pleasure with wacky, jerking body motions and moans and groans, finally, he sees I am ready to cum, and jacks me to a literally explosive orgasm, major body spasms, legs outstretched to the point of hurting, cum going everywhere, body spasming, the entire time he gently strokes me with perfect rhythm and touch.... wow....

I rested for a few minutes as he laid back down next to me, but I could see he was ready to bolt, so i ask him to shower with me and we clean each other off. I love showering with a guy, and this was no exception though there was no more sexual contact. We get out, he dresses and leaves, sadly, ghosting me after, and we never got together again. I couldn't believe the skill of this sexy straight guy, and greatly miss him and his touch, but what a memory, one I will never forget....