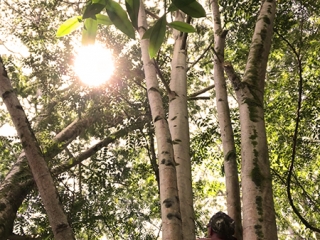 My first full day at a nudist B&B.
My host Bobby had breakfast laid out for me upstairs in the kitchen: toast and coffee. He left a note with a chore list for the day -- yard work, specifically, clearing some overgrown trees and bushes from the perimeter of the yard. He said he'd be back after running some errands.

I dressed myself in work boots, a bandana, sunglasses and sunscreen. The tools were in the garage. I decided to take a chainsaw to the shrubbery. Thought about putting some clothes on, but decided to do it nude. Not sure if nudity and serious yard work make a good combination. I got more than a few scratches in places I wasn't used to. The weather was warm and I was working up a sweat. In no time I was covered in sweat and a layer of sawdust that stuck everywhere. I cleared a 20 ft area, chopped the wood down and hauled it to the driveway. Next task was cleaning up the coconut trees. Dead fronds needed to be removed as well as some smaller plants had taken root high up on the trunk. I grabbed a machete and climbed up the coconut tree trunk, straddling the trunk. I neared the top and turned to see Bobby had returned. He was out on his second floor patio, nude of course. He smiled and waved and sat down on a recliner with a cigarette in his mouth and the day's newspaper. I proceeded to hack away at the brown fronds and weeds. I was at a weird angle so it took some stretching to get all of them. The whole time, my cock was pressed up against the tree where there was some soft, cool moss. It started to feel good as my stretching to reach was causing some friction. I looked back at Bobby. He was watching me, still on the recliner, but he was slowly stroking his cock. He moved the newspaper to block himself when he saw me. Horny guy, I thought.

Back on the ground, I bagged and hauled everything out to the front of the house. It was getting hot, and I was soaked in sweat and dirty. On my last trip with a large trash bag, I saw a stranger coming up the driveway wearing only shorts and a fishing hat. He waved, came up and introduced himself as Josh, a neighbor of Bobby's. I asked him if he was also a nudist. He smiled as he said yes, and offered to help with the yard work. I told him I was already done, so he went inside to talk to Bobby.

I returned to the back of the house, I took off the boots and put them out in the sun to dry. I turned on the outdoor shower and let the warm water run over me. There was a bar of soap on a dish, so I soaped myself up and had to clean every inch of myself.

I heard the lower patio door open. I turned to see Bobby coming towards me. "Good work," he smiled "and a good workout. You're in great shape!" "Nah," I replied, still under the shower. He stepped out of his flip flops knelt in front of me, the shower getting him all wet, and began to suck me as I stood there. He was voracious, not stopping. I closed my eyes to savor the sensations. When I opened them, I saw Josh up on the second floor watching. He pulled his shorts down and started stroking himself. The feeling was wonderful: being outside in the sun with the water running over me, Bobby's hungry mouth and tongue pleasuring me and Josh pleasuring himself while watching. My tired legs buckled as Bobby swallowed my load. I collapsed onto the ground. Bobby stayed with me, never letting my cock leave his mouth. The shower water was falling on my face, but I saw Josh aim his cock over the railing and cum out into the yard. I don't know if Bobby came or not. He gave my nipple a pinch before turning off the water and heading back into the house. I lay there for a few more minutes, out of breath.