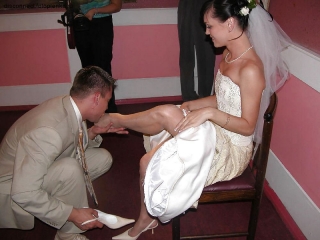 My husband finally admitted to his little fetish. He gave me permission to tell you about it. I decided it's pretty innocent as sexual kinks go, so I hope you enjoy!
This is an odd thing. I've been going through my closets meaning to pull out things I don't or can't wear any more or that are just plain out of style enough to give to the Goodwill. As I was sorting out my dresses, I came to the realization that my husband and I had had sex while I was wearing each and every one of my dresses. I could recall some interesting times as I looked them over. A sundress I wore on a vacation to Florida seemed attractive enough for my husband to just turn me around, flip up the skirt and pull my panties aside as he slipped into me. We were in a particularly public place and I know we were observed by a couple who seemed to enjoy what they saw.

An old LBD I'd worn to a reception reminded me of the time my husband was with me, dressed in a tux, teasing me all night with his semi-hard bulge as we danced and held hands (and other things) under the table. After dinner, he led me to an empty alcove in the hotel, hugging and kissing me as he hiked the back of my dress up to pull my pantyhose and panties down just enough for his purposes (mine, too!). Backing me up to a counter top, he helped me up onto it, pushing my knees up to my breasts as his hard cock entered me in one strong thrust. I couldn't spread my legs very far as they were constrained by my lingerie, but he managed to push my legs up enough to get his hard pole into my wet pussy.

As I looked things over, awash with pleasant and sexy memories, I realized my husband has fucked me in pretty much every dress I've owned, beginning with my wedding dress. I actually wasn't a virgin when we married, and we did have lots of fun during our engagement, but I guess I'd have to qualify that and say every dress I've owned during our married life. At our wedding, we had a short time together before we went to the reception. I'd planned to change into a more comfortable outfit then, for drinking, dancing, and general merriment. The formal photos were already done, so it was time to party.

Nonetheless, in the little office we had access to, he sat me down on a love seat, knelt in front of me, and slowly hiked my dress and petticoat up my legs and thighs, revealing my stocking tops, garters, and my lacy panties. He kissed every inch he could reach of me as he exposed me. I was ready to burst by the time he began kissing me through my wet panties.

There was a knocking at the door, calling us to join the party, but he just told them we'd be there soon and he went back to kissing me and chewing on my lacy panties. He pulled them aside and moved close to me. Unzipping his pants, he revealed his lovely stiff cock. I had to touch it for just a second, taking a bit of his precum on my finger to taste as I guided him into me. His precum tasted just a little salty and slightly musky. Very nice. He fucked me right there, in the office. It didn't take long before I began to come around his wonderful organ, to feel him deep inside, pumping his seed into me. I wanted every little drop of him inside me. I didn't want to waste any of it. I knew we weren't going to get pregnant, but if it had happened on that day, I'd have rejoiced. A perfect ending to the best day of my life.

As time went on, he would often suggest I wear something out he hadn't seen me in and inevitably ended up fucking me in that dress or skirt (never pants or slacks on our dates). He's an unusual man in that he doesn't mind shopping with me for clothes or, especially, for lingerie. In case you're wondering, we have done it in changing rooms at the mall, too.

I guess he has some kind of dress fetish or something. I don't mind. He doesn't fuss when I buy a new outfit and I get laid when I do. Not a bad arrangement, especially as he pays the dry cleaner's bills.