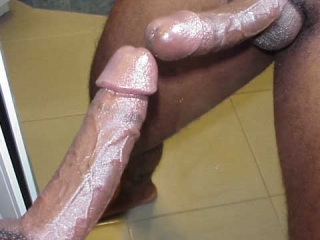 A friend I met on SoloTouch recently asked if I could write something about my first orgasm. So here goes.
It all started when I was 14. I remember looking in the mirror and examining my body and observing the changes while paying close attention to the size and shape of my penis both soft and hard.

I spent what seemed like hours observing my genitalia and my fascination with my ball sack as I watched the skin move involuntarily, kneading and churning my balls around in my scrotum. Each month I would take an audit of the hairs growing around my dick. I am not particularly hairy, so hair on my balls or around my rectum was not even something I considered possible. I was a very naive child.

I can remember having erections that were hard as steel and rubbing it against the mattress as I read a book, watched TV or something until I was distracted or lost interest. Eventually, we had sex education in school, but they only discussed puberty and human anatomy. Among my male friends, sex was our primary goal and that was all we talked about. So my very first orgasm was while spending the summer with my relatives in Washington DC and having sex with my older cousin who was 16 at the time, we had sex many times that summer, she taught me everything.

The summer of 1980 was a summer of discovery for me and the hit song by Leon Haywood "Don't push it don't force it let it happen naturally", spoke volumes. Once the summer was over and I returned home and all that sex came to an abrupt end. My body was in crisis, talk about embarrassing erections that were impossible to hide, that would be me. I was a life support system for a walking erection; I still had no clue of masturbation. So out of desperation one day while at school I thought to myself, if I were to mimic the mechanics of sex by rubbing my penis back and forth in my fist then maybe I could make myself ejaculate.

So that evening as soon as I arrive home from school I headed right to the bathroom and locked the door. While lying on the floor on my back with a tube of Vaseline I discovered the joys of masturbation and alas sanity returned. After that evening of repeated self abuse I know this was something I had to share. I decided to let my male cousin in on my dirty little secret.