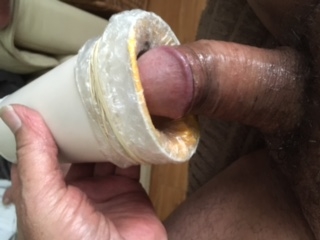 How I spend my alone time while my wife is asleep and when she is out.
I love to masturbate. It has been a way of life for me for many years. I have prefected this due to a complete lack of sex from my wife years ago. Although that has changed, I still love to masturbate and edge.

I have made my own fleshlight out of a plastic container, some newspaper baggies, and bubble wrap (small bubbles). It works great. I have posted a video and picture of it in use.

Okay, now for the technique:

I sit in my recliner and lay back. I take the flkeshlight and fill it with personal lube oil around the edge or just pour it on my cock, then with the fleshlight I srtart to wank. I can squeeze the container sides to add more or less friction to the tip of my cock, just like it was going into a pussy. I love to take it and put the top on my balls, squeeze, and the suction just grabs my balls like a woman would be sucking on them. I continue to work the toy up and down and soon I am hard and stiff. Now I take lube jelly and put that all over my cock and balls, making sure that I lube my rectum hole, because that is next. I insert my anal toy right in as far as it will go, making sure that it hits my prostrate, and that feels so good.

While it is in I move it in and out as I play with the tip of my cock. I am not cut and it feels good moving up and down over my frenulum, this brings me to the top of my sensations. I pull the skin all the way down tight to stop from cumming. I wait a few minutes and start all over again. I love to do this four or five times, each time stopping just before I cum. I fantasize about being fucked with a cock up my ass and then I will fantasize the other way as if I am fucking a beautiful asshole.

I put the homemande fleshlight back into play again, squeezing it like a pussy just until I am ready to cum. Sometimes I will cum in it. Other times I will pull it off, pull my foreskin all the way up, and catch my cum in it. I will then open it slowly so I can catch it in my hand to be eaten. That is the best part, licking and eating my cum.

Check out my photos and videos to see it in action...