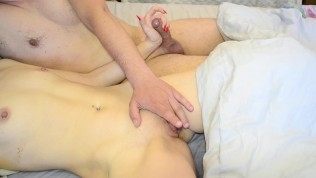 I have boobs and a pussy, but I don't really know how to be a girl.
I'll get straight to the point, I guess. I have boobs and a pussy, but I don't really know how to be a girl. I don't like girly things, I don't like girly music, I don't like girly anything. I do like my body and I do like masturbation and sexual activities, but I just wish I had a real cock attached to me. I've always felt I should have been born a man.

And that's why when I masturbate, I like to do it a bit differently. Usually I'll be sitting on the floor or the bed. Like, in an upright position, with my back against a wall or propped up against some pillows. My thing is, I like to imagine I have a penis. I really like that. So I'll hold a vibrating toy against my clit with one hand, and use my other hand to stroke a dildo and imagining that that's my hand wanking my own cock. That's how I feed my fantasy.

I'll have orgasms easily, either keeping my eyes closed or looking at my hand sliding over the dildo. A suction cup realistic dildo is best for this, as I can fasten it to the floor between my legs. Then I just wank the toy and when I have orgasms it's like I can imagine that the feeling of the orgasm travels from the dildo up through my arm and all over the rest of my body.

Yeah, it's unconventional. But it's very me. And I like it.

I do also play with my bisexual boyfriend. Our sex is maybe not so conventional. I can write more about our sex in another story, but I'll share one thing we like to do.

A great way for me to masturbate together with him is to have him lay back on his back on the bed, and then I sit opposite to him, kind of moving my genitals as close to his genitals as I can. Then I can do my masturbation routine using his cock instead of my dildos. So the method is pretty much the same - I'll use a vibrating toy on my clit, just pressing the toy against my clit is fine - and basically give him a handjob. While I massage his cock I imagine that it's my own cock, and that the feelings from the vibrator are coming from the penis.

It's a bit weird. But we're all unique, right?

I accept comments and questions about this technique, I'm always up for a discussion, so feel free to initiate one.