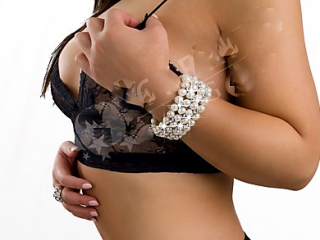 I finally tried out a "rub and tug"
There is a local massage place that is known to give happy endings near where I live. But it wasn't until recently that I even thought about going. The other day I got up the nerve to try it out. Lets just say I'm glad I did.

It seems like a pretty classy place. You come in and the receptionist brings you into a room with a massage table in the middle, a shower in one corner, a comfy leather chair in the other, and a sink next to the shower. She told me to lay down on the table and when I'm done, "one of our beautiful girls will be in."

I quickly undressed, tossed my stuff on the chair, and washed up. I put the towel around my waist and was about to lay down on the table. I would have had to make a decision to go naked or not, but before I was finished I grabbed gum from my pants. She knocked at the door and met me at the side of the table.

To be honest, I hadn't thought much about what she might be wearing. I guess I thought it would be something a little more sexier then a normal place. I thought it would be tank top or something that she would undress from if I wanted the "VIP" (i did) instead.

This hot asian, 5'3, 35DD-25-36 (read the stats on the site when I got home), was wearing a one-peice skin tight yellow thong leotard, almost see-through and tight enough so I could see her nipples were pierced.

She asked if it was my first time. I made a joke about the fact that my towel was still on gave it away. She smiled and laughed a little as she started reaching to my waist, asking if she could remove the towel. I said, "For sure." Then she said to lay face down. I did, making sure my dick was sticking up. I figured I'd get instantly hard.

She asked if I minded if she used oil before spreading it over her hands, then my back. She was gliding her hand over my ass and up and down my legs. Then she stopped for a second and asked if I wanted the VIP massage. I said "Yeah." Then she reached up, pulling her leotard to her waist, exposing the peirced nipples. They were the perfect size for her tits, a bit bigger then a loonie. She then pulled it down the rest of the way, giving me a great view of her shaved pussy in the mirror.

She then spread my legs more and proceeded to climb up on the table. She was rubbing her huge tits and grinding up and down me with her body. Having an oiled-up woman rubbing up and down me; if you haven't already experienced this, I highly reccomend this. It wasn't even a true nuru massage. I can only imagine what that would be like.

As she was rubbing my back I still wasn't hard yet. I was little shocked, I'm not gonna lie. I think I was enjoying the massage, since it was really the first one I ever had. She was really working my back, which was kind of sore before I had come in. At one point, she even asked if she was too rough. She was kind of, but I loved it and told her that in between my light moans.

After a bit she climbed back down beside my running her hands up and down my body making sure to go up and dowb the insides of my legs and balls and ass teasting my balls for a while beofre asking if i wanted to turn over i quickly obliged, she grabbed for my cock with her right and started to give me a few strokes while asking if i minded lube i said no problem.

Never having been there before, I asked if I could touch her before just doing it. She said yeah, just be gentle on her nipples, they were newly peirced. I grabbed her tits right away as she lubbed up my dick. Right away I was too rough but I just touched them softly as can be. I guess she meant to say "Don't touch them at all." I quickly said sorry and stuck to squeezing her tits. By now I was almost fully erect as I started reaching around her, cupping and grabbing her ass before playing with her pussy a little from behind, then moving around to play with her from the front.

I reached in bewtween her and the table to play with her clit a bit. She was in a bit of a hard angle, so she put her knee up on the table, spreading her legs and shaved pussy open. I started to play with her lips, spreading them and finding her clit with a little confrimation from her moan. At one point I asked if I could spit or lick my fingers. She said no, but it didn't take long until she was wet enough. I still wish I had asked if I could finger her, but I was pretty sure what answer I'd get.

All the while she was stroking my big cock up and down my shaft while playing wth my balls. This all went on for about 20 minutes, a lot longer then I thought I'd last since it had been a while since I had even jerked off (3 days, that's a lot for me lol), let alone got some action. She started stroking me really fast, switching between hands when her arms would get tired. As I could feel it starting to build up, I quickened my pace on her clit. I couldnt take it any longer. I was blowing my load all over myself and her hands as she said "wow." It was probably the biggest cumshot I ever had. She seemed to like it, with her big smile, as my hand fell off her clit. I failed to make her cum, though, somthing I'll look to rectify next time.

She then said to lay there while she cleans up. She washed her hands in the sink while I lay there in a sort of state of ecstasy. She then cleaned me up with hot towels before telling me to relax while she showers, then I could. I watched her shower through the glass door as I tasted her on my fingers before taking a shower of my own.

That knocked many firsts off my list: the first time I saw, touched, or tasted asian pussy, the biggest tits I ever touched, even though they were fake, and the first peirced nips. It was first time I ever watched someone shower without getting in. It was kind of like a voyeur style, though obviously it wasn't.

Now it's just a matter of when, not if, I'm going back. Next time, I think I'm gonna pick a girl, maybe a nice red head, with hopefully some pink puffy nipples (my fave), and maybe I'll try out the jacuzzi massage, whatever that is.