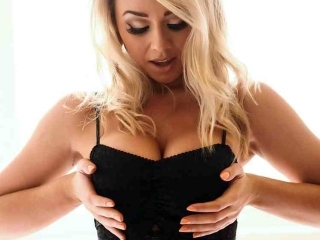 Trying to concentrate got so much more difficult..
During school I was a more reserved student, I did my work and got on with others in the lessons as well as enjoying free-time at parts of the day. After every day at school I would always run into my room and jack of to kinky videos and some good lesbian magazines. At first I was able to keep calm with my little habit, taking it slow and doing it once a day but as a hormone induced horny teenager I found it more and more difficult to control my habit. I would jerk off faster and harder after school and do it twice a day if I could. But this led to my uncontrollable problem..

As I became hornier during my teenage life I started to get hard-ons in school, of course I'd had a stiff cock in school before but that was just when I was pushing through the first parts of puberty and my dick was starting to grow, these were full blown throbbing boners that had precum spilling out the head. It got to the point where I would have to go to the bathroom to jack of and cum in the toilet which was nerve-racking but felt good to do. This sorta thing would happen every couple days but then the constant horny thoughts had made me think about a few things.

One day I got hard in my English class and started to think about the things I would do if I could fuck a pornstar but then I looked over and I could see my English teachers cleavage, normally I took no notice since I was more polite but the erotic thoughts in my head drew me to look at her tits. I couldn't take my eyes off them but made sure to look discreetly, I ran to the bathroom and grabbed my shaft so hard before tugging over her boobs pressing together. This had made me look at my other teachers, in particular my computer technology teacher. Considering she taught computer tech you'd think she wouldn't be good looking but while she carried a little weight she had curves and was a beautiful woman, which led me to look at her boobs every time I could. Sometimes I would get lucky and she'd wear a thin sweater that let you see under slightly showing her bra which gave me the biggest bulge, I jizzed over that so many times I couldn't count.. My teachers and friends had started to notice how I needed to go the toilet often and that I spent around ten minutes there each time which meant I had to lie but I was sure to get found out..

But that is stories for another time...