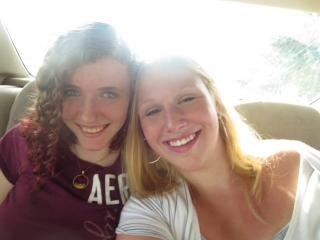 I've been caught three times, but the first time was an adventure.
I was driving home from work one day and I was so wet that I could feel my panties clinging to my smooth and shaved pussy. I was trying to control my speed on the road while thinking about how I was going to play with myself when I got home.

Thankfully I made it back to my apartment which I share with two room mates, Abby and Allyson. When I walked in the front door, Abby was home but Allyson wasn't, so I lied and said that I had a headache so I was going to bed. As soon as I got to my room, I opened my toy drawer which I plan to fill someday and pulled out my bullet vibrator and my eight inch g-spot vibe.

I wanted to just start in on making myself cum, but I challenged myself to make myself wait. I started stroking the lips of my soft, smooth, freshly shaven pussy with my right hand and sucking and biting the nipples of my 38D breasts. I grabbed the massage oil I have and dripped it from the top of my tits all the way down to my ass hole.

I continued rubbing the oil up and down my torso and privates. When I just couldn't take it anymore, I clicked on the bullet vibrator and put in on my left nipple and continued to stroke my pussy. Then I had an idea. I slid down to the end of my bed and wrapped my legs around my bed posts wondering what it would be like to have my legs bound to them and my hands tied up above my head while my fiance' fucked me however he wished.

Just those thoughts made me moan. I grabbed more oil and slowly dripped it down my slit and some on my hand. I then inserted my middle and index fingers to my pussy and the thick, wet, warm oil sent waves of electricity through my vagina all the way to my g-spot.

I was so horny, I thought I was going to die if I didn't fuck myself now. I realized the batteries on my bullet vibrator died, so I had to grab my backup one which I'd never used before.

I clicked my backup bullet on and put it directly on my clit. It was MUCH more powerful than what I was used to, and the unexpected shock made me gasp with pleasure. It was so strong, but so good. I sucked my nipples while I opened my legs even more.

I needed my pussy fucked and I needed it now. My juices mixed with the oil and it felt amazing. I took my g-spot vibe and put in it my pussy while my muscles gave it a welcoming squeeze. I turned it on medium power and decided that wasn't enough, so I turned it on high.

This felt so good that I couldn't hold back my urge to scream, so my roomie Abby thought I was having a nightmare. She came into my room to make sure I was okay. Then she saw me with my legs wrapped around my bedpost and opened as far as they could go. She saw me moaning with my chest heaving up and down. I had a bullet vibrator on my clit and I was throwing that g-spot vibrator in and out of my shaved and wet pussy.

I heard her whisper, "Oh my fucking God." The next thing I know, I feel a hand on my vibrator. I opened my eyes and saw Abby looking at me seductively and she whispered, "Relax baby girl. Let your mistress satisfy you." She then took off her shirt, bra, pants, and panties and looked at me again.

She then took the vibe and started to fuck me with it. She slapped my hand away from my clit and started licking and sucking it. I felt her 36C breasts lightly brush up against my thighs. I started screaming in pure ecstasy and I had the strongest orgasm of my entire life.

Abby then got up and commanded me, "Now go get my strap-on and fuck your mistress. Hurry up, Bitch." I did as I was told and went back to my room where I saw Abby playing with herself. She barked, "It's about fucking time." She then positioned herself just like I did and I kissed her from the top of her head all they way done to her feet. I then moved up her leg ever so slowly and attacked her pussy and clit with my tongue.

I then stood up and put the strap on on me and then fucked her like she did me with the vibrator while putting firm pressure on her clit and rubbing it. She then screamed with a hard orgasm and sighed as she recovered.

We then spooned and fell asleep on each others naked bodies.