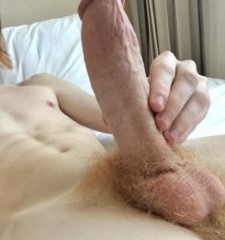 Soon after our first child was born it was clear that sex was not on our agenda for the next few months. It had been a difficult birth and my sexy wife wasn't interested. I soon had some sessions of hot sex with an amazing guy, my swim buddy.
Soon after our first child was born it was clear that sex was not on our agenda for the next few months. It had been a difficult birth and my sexy wife wasn't interested. I was 24 at the time. I took to swimming at our local pool twice a week to burn up some energy. The showers were open with a busy lot of students from the city university and business men all getting the chlorine off their bodies, it was a great place to cop a look at other young guys who were also no doubt horned up like me. I had seen a young Asian guy giving me the once over and he seemed to be in the showers at the same time. Our schedules seemed to be the same. We chatted and soon were looking out for each other each time we were there. His name was Chris, a 21 year old economics student who had represented Malaysia in 200 & 400 m free at the Olympic games. Apparently, very famous in his own country. He had the typical a swimmers body nearly 6 foot tall and a nice big uncut cock that was just on 7 inches. I had never seen an Asian guy with one as big. He was very handsome and i was flattered he wanted me to drop around for a coffee to his unit on my way home after one swimming session. His parents were well off and his unit was beautifully furnished when i dropped round after we had finished our swim. Chris had told me i could shower at his place and try out the new double head shower alcove he had just had installed. He had given me nothing but friendship even though his eyes did wander around the change room i was still unsure of his agenda. I had a feeling he was bi or gay. I felt ok if to have a wank buddy if that is where it was heading. Although i didn't consider myself attracted to men i loved contact sport and the physicality of male bonding. I certainly wasn't going to cheat on my wife with other women.

It was cold, so we quickly made use of his new bathroom. Both of us stripped straight away, he said that the twin head shoer was designed for two. I looked at him checking my now shrivelled cock. It was about the same as his so I had a good chuckle mentioning how they looked about the same length. He walked over to my shower and grabbed both measuring against each other. His touch felt like electricity running trough me. With the warm water and his handling my meat I was soon fully hard. He smiled as he massaged his a little and then began to compare the two hard dicks together. Mine was probably 2cm longer but his nice long foreskin hung out 3 cm or so from his so we looked very even. I was watching this sexy young guy play with my cock and he jacked them both together with soap as he washed me down with one hand gently soaping my lower back and ass as well with his other. It felt amazing. I felt like busting then and there. However he had other things in mind. He rinsed of the soap and took me in an embrace saying he hoped i had warmed up. I looked up into a face that would melt your heart, he had a look of genuine tenderness it was something special. I nearly panicked i thought oh no he's going to try to kiss me. I ducked my head and went to move away but Chris pulled me close and ground his hard cock into my lower stomach, he grabbed my ass cheeks and pulled me in . He gently put his hand under my chin and lowered his mouth onto mine. I wanted to pull away but i felt totally turned on. His tongue entered and his kiss was sexy , masculine and totally hot - nothing like i had ever experienced kissing women. it went on for minutes i was lost in the total sensuality of it. He moved to suck hungrily on my nipples and under my arms. My resolve to yell "enough.. I just want a wank buddy." was totally gone as I was lost in the hot sexy moment we had together. He kissed his way down my hard abs and took my throbbing prick in his mouth. He knew what to do. It was ecstasy. I told him i would shoot if he didn't stop . He grabbed my butt and pulled me in close. I shot stream after stream of hot pent up jizz down his eager throat. He eventually stopped sucking and worked his way back up to my mouth. I could taste the salty cum still in his mouth.

He picked me up ( i was25 kg lighter and a lot shorter), I'm not sure I could trust my legs anyway and gently took me into his bedroom. He lowered me onto the bed and lay on top of me between my legs. Chris smiled as he asked if i was ok to go all the way. I felt he could do anything by this stage. I told him this would be a first for me, to be gentle and not to bust his load in me. As he put some lube in and fingered my virgin cherry he sucked on my cock. I was soon hard again. He worked his way up putting my legs around him and putting a little pillow under my back. He supported himself on his arms but had his cock on auto pilot. He moved up to cover my mouth with his as he gently pushed the covered man meat into my little hole. I tried to relax as he pushed in further. I was gasping in pleasure and pain. I needed to stop and he sat up for a while jerking my oozing cock as he waited for me to adjust. He soon eased more in as he worked my stiff pole. When he was all the way in I pulled him down to embrace. Chris started a gentle rhythm but after a few strokes began some urgent thrusts that saw him soon pull his cock out and unload on my belly and cock. My second load for the night mingled with his cream as he ground into me and kissed me passionately.

We were both spent, after we showed each other down he told me he had been planning it for months. We managed more long hot sessions for the next three months twice a week. It was amazing and exhilarating. As time went on Chris fell more and more in love with me which started to really freak me out. In the end i very reluctantly called our friendship of for the sake of my family and for Chris. I still think often about those crazy sexy sessions and that amazing guy.