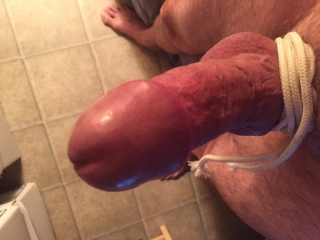 I was writing up an article for a website, and this is what happened.
Yes, there are websites other than Solotouch, but none as great! So, I was writing up an article for another site. It was about the idea of temporary penis enlargement.

For some reason I've never understood, many guys wish they had a bigger penis. Dudes, there's no need. As a bisexual admirer of the male body, I find even a very small penis totally attractive, as long as it is hard:)

Some of the techniques for long-term or permanent enlargement are downright dangerous. The exercises such as jelqing, well, they're fine and fun, too.

But I came up with something for temporary enlargement which is even more fun. Then, I decided I wanted to photograph it. The thought of people on the Internet seeing my penis hard, super-hard, in fact, really turned me on.

So, I got my phone, and some soft rope, and went to work.

First, I got myself hard. Then, I took the soft rope and wrapped it around the base of my cock, behind my balls. I wrapped it with several turns, so they didn't hurt the skin, and each successive turn was tighter. I had to unwind it, then retighten it perhaps four times until I got it right. When I did, it felt great. My cock was bigger than it ever has been before. It was also harder and shinier than it had ever been before. I felt the strain of the erection, and the weight of my dick on my body, and I almost came just from the feeling.

You see, here's the technique: You've gotta wrap the rope in such a way that blood can flow into the penis, through the inner arteries, but not out through the veins located closer to the surface - or at least that's how I believe it works. When you get it right, the rope has the blood trapped inside, yet your system tries to pump in even more blood. Exquisite!

However, before you go trying this yourself, consider the health risks. I don't know what they are. I know if you cut the circulation to a body part off long enough, that part dies. I also believe that if you use too thin of a rope, or tie it too tight, you might damage a trapped structure. For instance, putting the rope behind your balls, instead of in front, means you're also squeezing the spermatic cords.

Years ago, I did something similar with a shoelace, and sometime later I noticed a bump in my scrotum, kind of behind a testicle. It scared the bejeepers out of me, but turned out to be a harmless cyst. I don't know for sure, but I think it was caused by the tying. The bump is still there. It could have been worse. What if I had bisected a spermatic cord, or squished it to the point where it couldn't recover?

On the other hand, perhaps it's not so dangerous. No doubt men have been playing with rope or twine or vines, or whatever they could find to bind their genitals for 100,000 years, and you never hear of anyone fucking up in that way.

So, if you're going to try anything like this, whereas the risks are probably slight, proceed with caution. Or just enjoy my story and jerk off normally. My guess is my orgasm was no stronger than the one you can have right now.

BTW, I released the rope before I came, but wondered what it would be like to leave the rope on. My guess is that the cum would mostly squirt out slowly, but it would still get out. In the past, I have squeezed the end of my dick shut during ejaculation, and that was a nice feeling, although it can sting a bit, where the end of the urethra is stretched as the cum tries to get out past the restriction. Once you are done orgasming, you can let go, and all the sperm comes out. The urethra is evidently stretchy.

A friend asked me to do that to him once - the constricted sperm thing, and so I did. As he started to cum, I held the end of his dick closed with thumb and forefinger so no cum could escape. Interestingly, he continued orgasming for about twice as long as normal. We thought we had discovered something new, so he tried it to me, but I orgasmed only about the normal amount. We did it to him again a week later, and he orgasmed only the normal amount that time. On that occasion, he wanted me to successively squeeze his penis toward the base after his orgasm was finished, forcing the sperm back into his body. It was a bit difficult pressing firmly enough down past his balls, but I seem to have managed to get most of the sperm to squeeze into his bladder, and he enjoyed the experience. I assume when he next peed, it was cloudy or maybe even a bit chunky, but never asked.