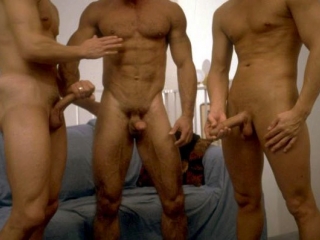 true story of my first time engaging in mutual masturbation with male roommates
I posted this story on the old site, but can't seem to find it anymore, so thought it was worth retelling, as it's my first male-male masturbation experience, which opened up my eyes to this aspect of fun male bonding with a sexual twist.
Ii was 23 at the time and living with two roommates, who were a gay couple. we had been friends for awhile, and were all comfortable with one another. I was single at the time, had only dated girls, and hadn't really ever considered doing anything with a guy, though I suppose I was always curious about seeing other guys naked. Growing up, I remember being fascinated by my dad's friends' bulges in their jeans and wondering what "was in there," lol. We weren't shy in my house, so I saw my dad and brothers naked a lot, but never hard and we never talked about masturbation, penis size, etc.
I remember showering at the local Y with my dad and seeing other naked adult men and staring at their hairy crotches, as I hadn't gone through puberty and was intrigued as to why they looked so much bigger and hairier than mine!
Well, fast forward to when I was 23. I was living with my mates and again, we were pretty comfortable around each other, so would often walk around in underwear, or a towel, when we were coming and going from the shower, brushing our teeth, getting ready for bed, etc. I had an odd schedule, and would be home alone at times, and one day I came home to find one of my roommates on his laptop looking at porn. He was clothed and not jerking off, but you could tell he was probably going to be if I hadn't interrupted him.
Well, one thing led to another and we started to explore some porn sites together. At one point he said, "ok, I need to go jerk off" and I just laughed and said, "ok, have fun"…and that was that. A few nights later though I was all horned up at night, and was jerking off naked in bed. That same roommate from the other day came in to say goodbye, and obviously saw what was going on, as my hand was wildly moving up and down under the covers. He came over, sort of patted my hand/dick over the covers and said, "lol, have fun bud!" I was pretty embarrassed, but thought, "oh well, we all do it, so no big deal…"
The moment that something actually happened was probably a week later when we'd all been out drinking. We came home late, started talking as we undressed, and started getting ready for bed…just the usual routine. I was in tight white briefs brushing my teeth and the two of them started to kiss a little. We continued talking and all of a sudden one of them (not the one who had caught me in bed) gently rubbed by dick in my undies. I became very nervous, and he simply said, "I think maybe you're a little curious about playing around with a guy…are you interested?" I really started shaking, and became quite confused about the whole thing: "would this make me gay if i did it? Was I gay because I was not intrigued and a little horny? Was it just the alcohol talking?!" At any rate, we talked a bit more and they assured me it was just a bit of fun between mates and that it wasn't a big deal.
So…we all went into their bedroom and started to strip naked. I don't think I was hard right away because of my nerves…and to make matters worse (though later on, to make things really fun and more interesting) my friends had huge dicks! I had always thought I was average sized, and never thought much about the size of pornstar dicks…but here were two large cocks right in front of me, and they made mine look small, lol! But, I was fascinated by them. It didn't take long for us all to get hard and naked and start to explore…it was the first time anyone else had ever touched my dick, and it was the first time I had ever touched not one, but two hard cocks. My one roommate had a larger than average thickish cock with good girth, and was cut. the other mate was very large in my opinion…I would say maybe 8 or 8.5 inches long, was girth, and was uncut.
Now, before everyone on here things I'm lying about size (as I think a lot of authors do), I'm only like 5 inches cut, so I have to say, these dicks were not only large by my standards, but by most standards! I had never seen an uncut dick before, so that was fascinating: the way the skin moved over the head, how it leaked pre-cum when he got excited; the whole thing was fascinating and a bit scary but very exciting. We took turns just slowly stroking each other, getting in a circle on the bed -- my one friend grabbing my cock, me grabbing the guy next to me, and so on…
We next took turns lying down and having the other guys take turns jerking us off and playing with our balls…massaging them, licking them, fondling them, tickling them, teasing them… it was relaxed and they didn't pressure me to do anything more than just bate, which put me at ease in the moment it was an extreme turn on, though writing the story now, the details maybe don't express how horny I was in the moment: Here I was naked with two other guys who were also friends, who I lived with, and we all had raging hard boners! my uncut friend was leaking, and my balls had gotten so tight, that they were sucked up into my body, as I was so excited when it was time to cum, the cut roommate laid down on the bed and I shot first.
I remember the orgasm building as he played with my balls and suddenly…"AHHHHH, oh fuck!" I shot all over his stomach. my other roommate (the uncut one) was at his feet and was much more quiet when he came…but god-damn if that huge cock didn't shoot over our friend's body and hit the headboard of their bed!!! I was floored, and I think that's why I still really like seeing big shooters to this day. We surprisingly didn't have very many circle jerks or one-on-one bate sessions after this experience, though they did occur. It was fun and enlightening, even though I was a little freaked out the next day…but, I wouldn't trade the experience for anything! Please post comments and send me a message if you'd like me to post more stories, or if you'd like to chat about common experiences.
Thanks!