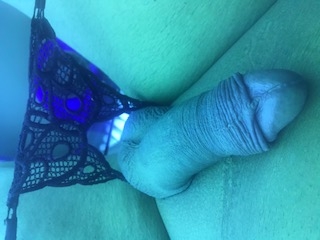 Getting My Tan On
I love being in the sun. During winter months when it's too cold for the beach, I visit the local tanning place and book a month of unlimited tanning. Usually, I just go in, strip down to nothing and chill. Sometimes, though, the endorphins kick in and I get hard or semi-hard. The trick is to relax for the last few minutes of the session so that I don't leave the place with my cock tenting my shorts or pants.

When I am particularly horny, I will bring along a pair of my girlfriend's panties or a bikini bottom. She has a rather large collection. The lace ones are my favorites. I will slip them on before I leave the house and tan for a bit with them on and then take them off after a few minutes so that I don't have crazy tan lines.

Today was one of those days that I have been horny all day. I worked from home and my girlfriend is coming over later tonight to fuck. I started my day by showering and shaving most of my body (she loves it!) and then rubbing myself with some oil. Today felt like a day to bring along something from her panty drawer at my place. I picked out a little black pair that has the front in the shape of a butterfly. They are crotchless so I pull my cock and balls through the opening. The back is a g-string and the material rubs right up against my clean shaven butthole. I put them on at home and looked in the mirror. I then thought that it would be fun to add something else: a buttplug. I lubed it up with some oil and slowly inserted it. My cock twitched.

I drove to the tanning place and checked in and got into my room, locking the door. I stripped down and started the bed. I got in and took some pics. The one above was taken just an hour before I wrote this story. When I was done, I left and returned home to finish some work. The sensation of the buttplug, my girl's underwear and the warmth of the tanning bed has been enjoyable all day. I can't wait to bang my girlfriend tonight!