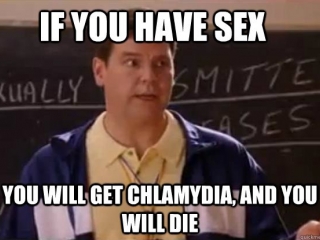 Letting a friend vent.
I grew up in a sex-neutral to sex-negative household. Mother gave the sex talk to my brother and I, however it was more like the scene in Mean Girls where Coach Carr tells them them that if they have sex, they will die. Both encouraged abstinence, and open-door policies were how they basically negated everything from sex to masturbation – even at night while we slept. Dad never spoke of sex to us.

My view on sexual desire is that it is an inherent, instinctive part of being human. I love the primitive, animalist sexual desire – the urge to hump until you orgasm or to touch yourself. I'm straight but I don't have a problem admitting that I like to think of guys sometimes. Frankly, a guy often knows how to please another guy better than a girl can, and he understands the more urgent need to jerk. At the risk fo sounding like a selfish lover, I don't always want all the foreplay and emotions involved with women and sex. Sometimes I just want to jizz and go on about my day.

When I was around 16, a friend and I were upstairs. He was horned up like usual; his girlfriend was a "good Christian girl" with strict parents, and she was never interested in doing anything, and he's a nice guy – very respectful – so he never pushed it. (He figured they'd marry after high school, and he'd get laid then.) He was clearly trying to control his urges and like most of us get when needing that release, was frustrating to deal with. I jokingly asked him when he had last came but he did not answer; in his family you controlled your sexual needs.

He told me they'd been upstairs and had started making out passionately, but they'd had to stop when her mother came up the stairs to "check on them". I inquired for more information. He is a true gentleman and doesn't "kiss and tell" so I didn't expect this admission, but I had no intention of revealing their actions to anyone. I wanted him to stop being a prick.

She was really into it that day. She was on her back, legs open... At this point he had an erection in his jeans. If I'm honest, his dick was unimpressively small. I would say no more than 3.5, maybe 4" erect and not very thick from my guess, either, however I was getting horny listening to him and seeing his small tent. His girlfriend was a nice girl and didn't realize how many guys thought she was hot. She pulled him on top of her and passionately started kissing him saying, "We're going to get caught." This must've really made her excited.

He then demonstrated how he had gone down on her; his legs over her right leg but close enough to her vagina. He said he had only felt her over her panties a few times but his hand had gone right inside of them. She touched his erection and kept her hand there, and he couldn't stop humping her. She was grinding right back, their animalistic instincts driving them to thrust harder and harder against each other while panting and groaning in hormonal teen lust.

Only now he was doing this to me with the same primal urges. I hadn't expected this but I responded back, my own erection obvious. He suddenly seemed to realize that I was not his girlfriend. I would normally have stopped this, but I was now horny as hell and he needed to release some sperm badly. I told him to keep going, to let it out, still humping his leg.

He really started to go at it, his rock hard cock pounding my leg, then mounting me from behind and thrusting like his life depended on it. I could feel his hard cock against my ass as he pulled me closer. Finally, a minute later, he sped up, I heard him let out a small grunt and he was still. I stayed on all fours until he was done filling his trousers with 5 or 6 massive spurts of hot semen. He was panting heavily, a massive stain on the front of his trousers. He was also very red with embarrassment. I assured him that it was OK, and that all guys needed to do that type of thing. I then commented on how much he'd came in his underwear. I was very hard. He was embarrassed and ready to leave, but I wanted to release so badly that I half-jokingly said, "My turn!".

I've always been a humper. Even now I usually need to hump a pillow to finish myself off though I've perfected stroking techniques. I pushed him on all fours and went to town between his legs. This time my hands went around to his jeans and unbuttoned them. I was bigger than him; probably around 5.5" - 6" and thicker. I undid my own trousers and lowered them just enough to reveal my strained briefs barely covering my own erection. He didn't resist but started breathing heavily again. I was so aroused that I didn't care who saw us doing this. Both of our cocks oozed precum again. Then I heard him say, "Do it, harder. Ahhh. Come on. Ejaculate everywhere." Shirt up now, I started thrusting between his legs with all my might. The sensitive head of my engorged penis was begging for release. I got the urge to speed up and then exploded with several huge blasts of semen into my underwear. I grunted and groaned as I finished. He was grunting too, now jacking himself off. Before I knew it, he had announced he was jizzing and creamed his underwear once more, cum falling onto the floor. We both compared our loads and agreed that we weren't gay but that it was nice to release.

Unfortunately, it was a one-off deal and we never spoke of it afterwards. His girlfriend never did put out but I guess he realised that masturbation is not a sin.