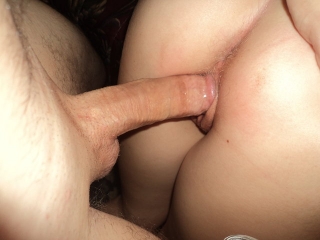 The continuing love story between me and my ex-wife's cousin
COUSIN LOVE CONTINUED PART THIRTEEN

We spent the entire day laying around after the fiasco of the morning where we had sex on the couch and our clothes got all covered in her cum. This led to them having to be washed. We both didn't want to be alone that night, it was hard but we both felt the same way. As we sat on the chaise lounges out by the pool, I looked at her as she just happened to glance at me. I said "honey" this was the first time I called her that, she was shocked. I usually called her by her name. She was just as shocked as me. She said yes with a smile on her face, a small smirk on her lips, I said, "I don't want to go home tonight, I want to stay with you, can I?" I thought she was going to faint right there, she almost did, she got up ran over to me put her arms around me hugged and kissed me and said "I love you, Bob, I really do" and this was the first time that she used my name, she just never spoke my name, it was like unwritten no names ever used, no signs of verbal name affection ever between us, it was easier. This way no slip-ups afterwards with our respective others, it was better that way, and we both knew it. It had worked so far with no problems.

We just looked at each other and knew that this was a new turning point in our relationship, not just the name calling but the wanting to spend the night together. It was going to be a whole new ballgame, a whole new and different type of relationship if we could work it out and pull it off without getting caught. That would be the best part of the plan, not getting caught by our significant others. All we had to do was come up with a fool proof plan, a fool proof plan that would work.

She got up walked over to me put her arms around me held me tight kissed me like she had never kissed me before. Squeezed me so fucking tight I thought I was going to pass out from lack of oxygen. She just kept squeezing and squeezing me till I screamed uncle and she let go. I dragged her over to the pool and thru her in and I dove in after her. There we were now both in the water laughing and giggling like two school kids on holiday after school let out for the summer. I went over to her, she wrapped her legs around my waist and locked her ankles together, not letting go. I held onto her waist with my arms, she put her head on my shoulders and lay that way for awhile. A few minutes later my cock starts to get hard and she could feel it growing up against her body. The coolness of the water was making her nipples hard, now the water wasn't that cold as to shrivel my cock but it was cool enough to make her nipple hard. They were hard I could see them sticking out thru her bathing suit top, oh they looked good hard and stiff.

My cock was the same good hard and stiff constricted only by my swim trunks and her body which was wrapped around me held by her legs wrapped around my waist also help it in place, all it need was for her to move and it would be ready to spring into action. I pushed her up against the wall of the pool, we were in the middle so the water was deep enough that she was partially submerged yet I was still in control of her body. I could let go of her waist and maneuver her up or down depending on what I wanted from her. She didn't mind that and she let me know. I let go of her waist and unbuttoned her swim top, it fell away easily exposing her breasts and nipples. I moved her into deeper water so that we were at water level. I could now let them float as I played with them with my hands, cupped them played with the nipples with my fingers and sucked on them with my mouth. My tongue did the rest of the work on them as she had no place to go she was mime all mine, she could only move one way and that was towards me, towards my body and cock, which was still held captive by her body and my swim shorts and her torso.

I was in control now and she liked it, we kissed and kissed some more, she buried her tongue in my mouth sucking on my tongue and I did the same to hers, almost sucking each other's out of each other mouth's. The exchange of saliva was amazing, she tasted so fucking good, there wasn't a part of her body hat didn't taste good no matter what is was pussy, nipples, breasts, tongue and asshole it all tasted so good.

I moved my body away from the wall a little allowing her room to let go of her hold with her legs, she took the hint and relaxed her ankle hold on me her legs opened and slid down as they did her pussy found my cock which had been restricted in my shorts and now had been let loose. She knew what she wanted and she knew how to get it. She pulled my shorts down and they floated down to my ankles, my cock was now pointing straight out at her body. She took her fingers and slipped her bathing suit bottom off one leg at a time, as only a woman could do, they are amazing when it comes to getting out of bras and panties when they want and need to in a hurry. Next thing I knew she was completely naked and wrapped around me again, only this time she had aptly inserted my cock into her pussy, so gently and with the greatest of ease that it was amazing and wonderful….I knew it was going in but it felt like a million dollars when it was in.

She had her legs wrapped around me pulling her tighter and tighter, my cock was buried inside of her as far as it would go. It couldn't go any further than it was, there just wasn't any more room. I could feel the warmth of her cum as it permeated her pussy as it oozed out and around our bodies. Oh, this felt so fucking goo, now she was kissing me, holding on to me pulling my head into her head as she kissed me harder and harder, oh honey I said don't stop please don't stop as she moved slowly on my cock. She then started to play with her breasts, as if I wasn't doing a good enough job, but apparently, she wanted her hands there for a reason as she kneaded them and then she put her finger down between her legs on top of her pussy where her clit is and starts to play with herself. Now she is really going at it, her body is starting to shake and move uncontrollably she is moving back and forth on my cock faster and faster I can feel the hot cum from her vagina now more and more. I look down and see this yellow fluid all over the pool water in the area of her pussy and there it is the pussy juice squirting out of her pussy she is squirting and cumming at the same time in the pool. Oh what a sight she is moving cumming moving making me ready to cum, I can't hold it and I cum in her. My hot sperm mixes with hers as she shoots pussy juice and squirt juice all over and she lets it squirt out of her into the pool, oh shit what a color I had never seen this before in my time, not here anyway. But she was happy and so was I, we were both relieved, happy and satisfied. We stayed this was with me inside of her for a while until my cock just shriveled up and came out on its own, all full of cum, her cum my and squirt juice. We held onto each other for a while until we could walk out of the pool and make our way to the lounge, where we laid down next to each other on the same chair cuddled up and slept that way for a while.

When we woke up it was almost dinner time, it was time for me to decide, a big one, it was now or never if I was going to call home and tell my wife that I wasn't coming home that I had been called out of town on and emergency job. I was a Service Technician for a large company that specialized in commercial accounts and there were times that I was called upon to do out of town and out of area service work. This would be one of those times, there had been a couple lately so she wouldn't think it strange especially at this time of night as my job was 24/7. There were times I would come home from work sit down to dinner only to be called out have to eat and run and not get home until one or two in the morning. So, she was used to it. I walked over to her cousin, put my arms around her and asked, "do you want me to stay tonight? I knew the answer before I asked but had to ask anyway. She looked at me with those forlorn eyes of hers and that said it all. I knew the answer, it was a resounding, YES. I picked up the phone and made the call, the call that would change everything, there would be NO turning back after this, there would be no redoing what was about to occur, whether good or bad we were about to seal our future destinies. So be it, was it fate, was it design or was it lust whatever it was it was about to happen no turning back in about five minutes.

The phone rang at my house and my wife answered, hello, she said where are you, the usual questions, I am at work in the city, but I have some bad news I told her I must go out of town for the night won't be home probably until tomorrow or until early the next day, emergency job. After that shock wore off she asked what about clothes, money a place to stay, food all the usual things. I told her that the Company was covering all of it not to worry. Then why me, why not someone else, I tried to explain that I was the only one qualified to go and take care of the problem but that I was taking a helper. That didn't make any difference to her it was just the same bull shit to her, but what was the difference if I was home or not. It's not like anything would be different she would be in one room watching TV and I would be in another all alone, the usual. The bed no comradely at all, it was like we weren't even together not like her, not like with her cousin, where we were always together doing, talking, touching, feeling and it wasn't just because of the sexual feelings, it was because it was genuine love.

Well after the call was over and I hung up the phone, I turned and looked at her cousin, she was standing about six inches away from me. She reached out put her arms around me grabbed me and said, "Bob. I love you for this, I will never forget this night and I'll make sure you don't either" Oh. Shit what did that mean, what was I in for, well it didn't matter, we were going to be together for the whole night. That meant we didn't have to stop being together get dressed and go to our respective homes. We could actually sleep together the whole night, something we had never done before at all. This was going to be fun and exciting for the both of us.

She started dinner, and I barbecued a couple of steaks with potatoes, she made a salad with tomatoes, just the way I liked it actually we both liked it the same way which was nice. After dinner, we lit the fire pit, sat on the double chaise lounges had some wine and relaxed, it was different relaxing and we could be ourselves without rushing off. As she was lying the I put my arm around her she could feel me gently massaging her legs, she opened them slightly she knew I wanted her pussy as usual and I knew she wanted me to finger her. I slid my hand down between her crotch, found the soft subtle soft tissue of her pussy and entered her vagina, it was wet in anticipation. I slowly moved my finger up and down in and out of her vagina making sure that I hit her clit on every move, she moved with every touch. She moved her hand down to my crotch in and down into my shorts found my cock and began to play with me, slowly playing with the foreskin back and forth up and down she could feel the precum as it oozed out from the tip. She swirled it around the tip down the top to lubricate the skin as it moved up and down. I was doing the same lubrication to her pussy her making more cum than me. I took some of her cum and put it on my cock, the smell of her cum was what I needed to excite me even more. She played and played with me as I played with her, here we were alone all alone with no one to bother us all night. We had all night to play, suck and fuck we were going to take our time, no rushing tonight. We did this for about an hour or so just playing great foreplay only to get better later.