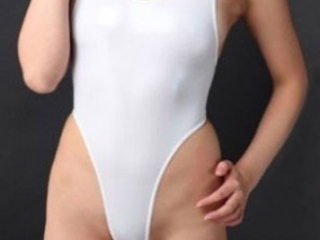 I was in doubt about how to call this, an embarrassing accident or a hilarious incident?
I love to go shopping with my friends but sometimes Internet shops are too tempting to ignore. This time I ordered a light vest, a romper and a leotard. I planned to wear that leotard under that new vest and with shorts or jeans it should look cute. I don't know if leotard is the correct name maybe you would call it a jumpsuit. It is tight fitting and I can wear it without a bra, my boobies are not that big. When I ordered it I didn't realize that this one fastens with buttons in the crotch. I guess so you can pee without taking it off but still I don?t understand because I find it much easier to pull it aside when I have to go.

Anyway, when I came home my mom forgot to tell me that there was a box delivered for me. It was later in the evening that she told me, I had already showered and was in my bedroom browsing through some stuff on my laptop. I walked downstairs with her telling about what I ordered and she was as curious as I was. My mom is more conservative than I am and never orders via internet, she wants to see and fit it on before she buys.

I don't know how it is for you but for me unpacking a box from an Internet order is like unwrapping a present. When she saw my new stuff she approved and liked my choice but insisted that I tried it on to see if it was the right size. Me too, I was eager to see it on me. As I said, I was ready for bed and was wearing a long shirt only, I lifted my shirt off over my head and tried the romper on, perfect, and my mom approved.

I took the romper off and was at the point of trying the jumpsuit on when my mom, kind of worried, mentioned, what about returns if it doesn't fit? (I was naked, we all sleep naked so that was not a surprise and I feel comfortable to be naked with her as well.) With her typical worried mom voice she continued; how do you know it?s clean, maybe someone else tried this one on as well and returned it. I continued and kind of pulled myself in the jumpsuit and told her not to worry so much. It was tight indeed but super sexy, my mom commented; it fits you like a snake skin and it is lovely.

Her comment surprised me, but she is a sexy lady herself and contrary to her Internet conservatism she is not conservative regarding my sexy or her own clothing.

'Wow your dad would love this, I think I will order one myself' she said, kind of joking.
'What?' My dad who was in the living watching TV had heard his name and turned around looking at us.
'I said that you would love this' she repeated to him. 'Show him', she asked me.

I walked up to him and turned around for him like a model and I took several poses to impress him.
'Yes your mom is right, I love it, very sexy' and he smiled.
I took a pose again and looked down over my body. SH%$ ... only now I noticed that I had totally forgotten to button up the crotch. I was standing in front of him, at arms length, posing, my pussy, hips and pelvis pushed forward like a porn model.

'You pervert, you could have told me!'
He was laughing and laughing and said 'why? I am your father but also a man.'

I returned to mom, blushing and embarrassed.
'Sorry darling I forgot as well, but don?t worry, I am sure he doesn't mind.'
Actually I was not upset, I took my new vest put it on, grasped my romper and walked (acting kind of upset) back to the stairs to go to my bedroom; I passed him and took 'that' pose again right in front of him. He again laughed, 'thanks sweetie you?re beautiful, sleep well.'

I have to confess, the thought that I posed my pussy excited me and back in my bedroom I undressed and lay on bed naked and masturbated.