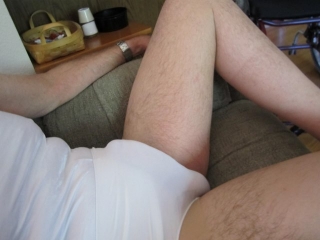 Masturbating while swimming
I am a wheelchair user and swim for exercise. Because I cannot use my legs I place a "pull buoy" or a leg float between my legs and use my arms to swim my laps. The lanes in the pool are divided by ropes and a line on the bottom of the pool divides the lane in-half allowing two swimmers to use one lane—each staying on one side of the line.
Four or five years ago I started going without underwear as I loved to get and keep erections many times during the day. For the same reason I found unlined and nylon swim trunks great for getting erections while I swam and could readily rub my hard-on as I did the crawl stroke. Usually using my right hand as I complete a stroke—I will run my hand over my hard-on. Also as others have said in their stories, it can be a turn-on to be in a public place and be masturbating. By pulling the left leg of my trunks up into my crotch my penis and testicles are within easy reach as I swim. As I have been swimming for months and getting hard--lately I have been also stroking as I swim. Instead of just rubbing I will –again with my right hand give my hard-on a few strokes. Also I am not circumcised so I often pull the foreskin back that adds to the pleasure.
A couple of days ago I came close to an orgasm. Each day I have been getting a little braver and done more stroking until the other day I had an orgasm as several swimmers, both male and female were feet from me. Needless to say as I came my legs went stiff and since my head was underwater any sounds I uttered were muted.
Being a lot of fun I planned on an hour and half swim yesterday. I was hard the whole time and finally had to stop at the end of the pool. With my hand inside the leg of my trunks only after a few strokes I once again had a superb orgasm in the pool as a woman was swimming laps in the same lane as me. Amazing what you can do with your hands underwater as you swim. Spending an hour swimming is good exercise but extremely boring. Found a new diversion which I plan on using frequently.