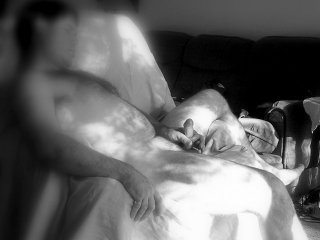 Juliet may have been the oddest woman I ever dated. But her sex drive was beyond compare. She loved all aspects of sex, even masturbation.
How exactly did I wind up in bed with a Lesbian who had a boyfriend? Well, we met at a party. I was an acquaintance of her boyfriend, and he introduced me to Juliet. He quickly disappeared, leaving the two of us to talk. I found her a most interesting woman to talk to, and we soon discovered we had many mutual interests. I ended up talking to her the whole evening, and when her boyfriend came back to take her home, she secretly pressed into my hand a small strip of paper with her phone number.

I wasn't exactly sure what her intentions were, but I called her the next day and asked if she would like to meet at a coffee shop, and she readily agreed.

I should probably give you a description: I found her absolutely beautiful. She had a unique face--the only one I can compare it to is the character of Tara on Buffy the Vampire Slayer. I think the actress's name is Amber Benson, if you my dear reader, are inclined to google her. Her blonde hair was streaked with light brown, she had lovely brownish-blueish eyes that was straight and fell far below her shoulders, nearly all the way down her back.

Her body was as hot as her face. She often wore knee-length skirts that were tight and showed off her tanned legs, generous waistline. She had a slight paunch of her belly, but then, I find that extremely attractive in women. I'm not an expert on bra sizes, but Id say she had a decent C cups, and she liked to wear shirts with a neckline that clearly revealed her cleavage. OK, so they really showed the tops and sides of her wondrous boobs. I had a lot of trouble that first date keeping my eyes on her face than on her chest. While she said nothing to that, she clearly picked up on it.

Our first date lasted to nearly one in the morning. At first, we continued our talk of mutual interests. But I couldn't resist asking her: Why was she meeting me if she had a boyfriend?

She answered quite bluntly. She and her boyfriend were drifting apart, and she found me attractive. I blushed at the compliment, still not sure how to take it. I pressed her further for the cause of why they were breaking up. Again with no hesitation, she explained that her boyfriend had little sex drive and they hardly had sex when they first dated, and now they went without none.
She then confessed she had a sex drive equal to most guys she knew.

So what do you do about it? I asked her.

Well, I masturbate a lot, she said.

I almost choked on my coffee. Holy crap.

I blushed again. our talk paused for a moment as we realized the coffee shop was closing. We left, and started walking around outside. It was dark now, and we found a secluded grassy hill behind the shop. we climbed to the top, and settled in the long grass. I checked before I got myself comfortable: we were completely hidden.

Our talk continued. I asked her how often she played with herself. Her answer was whenever I can. How do you like to get off? She said she couldn't get off the traditional way by fingering her clit, but using the detachable shower head whilst showering often did the trick, as did humping a pillow.

By now I felt my cock stiffening. Not quite noticeable yet in the moonlight, I didn't really care if I got a full erection, this talk was so hot. She then turned the conversation to my masturbation. She asked me straight up questions, like how often I do it, the various techniques I use, etc. I told her how I loved to read erotica (and Solo Touch). She asked me if I look at porn too, and I confessed that I did.

Do you ever jack off without porn or sexy stories, she asked me. Sure, I said.

Then what do you think about?

I gave her a list: women masturbating, reliving the last time I had sex, naked chicks on a beach, and sometimes a hot movies star. I told her my current obsession was Angelina Jolie.

Oh, yeah, I get off thinking of her too.

Wait, what? You're into women too?

Then it came out. She told me she was actually more attractive to women, and only found a few men actually having the looks that got her turned on. I blushed again and got really self-conscious when she told me I was one such guy. But mostly, she told me, she was very attracted to women, and thought she was pretty much a lesbian.

Have you ever been without a woman?

Yes, she said, once. A female friend of hers began to blatantly flirt with her once at a party. Her friend took her to an empty bedroom and they made out for several hours. While no clothes were removed, their hands went everywhere and she actually spontaneously came halfway through from the excitement.

So why do you have a boyfriend then? That question caused some hesitation on her part. She mumbled out a long, apologetic reaction, something to the effect that she had a bad experience a few years back at a summer camp. It came out she was gay, and sadly, was then ridiculed and shunned. After that, she decided it was much "easier" to date guys, and leave the act of getting it on with another chick as a fantasy only.

Bummer, I said. I gathered my courage, and told her outright that I would have loved to get to first or second base with her that night.

Why not? was her response, and before I could answer she leaned over and kissed me. I didn't have a chance to respond, and we were quickly laying in the grass passionately making out. She ended up on top of me, and I wasn't sure how far she was going to let me go, so I kept my hands to rubbing the top of her back. Her hands roamed all over me, and she began to grind her hips against my now fully hard and throbbing cock. She pulled both my hands down to her ass, and I enthusiastically began squeezing and rubbing her butt cheeks through her jeans. I began thrusting my hips up ever so lightly to meet her undulations, and she began to make panting and gasping sounds.

And then, as suddenly as she started it, she stopped. I can't do this yet with you, she said. Not yet.

Dang! I was so hard and ready. So was she, I thought, as I'm pretty sure I was feeling the wetness of her pussy through her crotch to mine.

We laid there catching our breath, when she asked me:

You know, I've never seen a guy stroke his cock. Would you be willing to show me?

There was no hesitation on my part. Of course! I said.

Normally I masturbate in the nude, but in the interest of expediency, I pulled off my jeans and my boxers, flinging them to the side of us in the grass. My pale skin shone in the moonlight, my cock already bouncing up and down over my lower abdomen. I slowly rubbed my balls with me hands.

Uhh, we have a problem, I told her. I usually need some kind of lube.

With no hesitation, she spit loudly and strongly on her hands a couple times. Her small, soft hands were quickly on my cock, until it was slick with her saliva. As soon as she lifted her hand away, mine was on it, stroking up and down, barely covering the tip for a moment before going back down. I was so excited, from the talking, to the making out, to being able to show her what I do, I knew I was close. I wanted to delay it as long as possible, as the feelings were so exquisite, so I slowed down my pace. She asked why I was going so slow, and I explained to her my wanting to delay my cum as long as possible.

Do you do that when you usually jack off? She asked. Yes, I told her.

Wow, she said. This is hotter than I thought. I can really feel my pussy getting wet. Every couple of minutes, she leaned over with her head just inches above my cock, and let out a big glob of spit over my cock, keeping it slippery and letting my hand slide ceaselessly in its motions.

I made about fifteen minutes before the sensations came that told me I was at the point of no return. Most likely the reason I was able to hold out that long was because I masturbated to two cums earlier that morning.

I'm gonna cum! any second now!

Juliet's eyes went big with glee. She actually let out a girlish squeal. Go for it! she exclaimed. Cum for me!

With those words pushing me, I felt that familiar sensation in the base of my cock, and the contractions moments before the ejaculations, and then...wham! A good spurt of cum, straight up in the air and falling on my hip! Then another, coating the bottom of my shirt. A third and fourth foamed all over my cock, and in the moonlight it positively glowed.

Oh wow! said Juliet. The sensations were so good, I kept stroking, now using my cum as lube. I let out a long, satisfying breath of air.

Juliet's face was as flushed as mine, and she began gushing about how exciting, sexy, and hot it was to watch. By now it was very late in the evening, and I pulled my pants back on. As we walked back down the hill to our cars, she thanked me profusely for the show. We arranged for another date, in a few days, and she hinted at maybe she would be willing to go further. I couldn't wait.

Our torrid affair continued for a few months after that, but then she abruptly decided to go back to her boyfriend. I had a lot of fun with her, her sexual appetite was as high as mine, and I took it as quite a blow when she broke it off. However, the memories remain, fuel for my thoughts and contributing to a furious stroking of my cock.