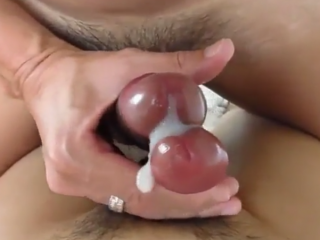 Two boys trying out cock to cock jackoff get caught by one boy's mother.
This is kind of an unusual story. It's not something I experienced but was told to me by my 16 year old nephew. He is the son of my sister. He was visiting at my house where I currently live with my gf who also has a son of the same age. To give you a quick overview, my girl friend caught the two boys jacking off. I was not home at the time. Her son sort of looks up to me as a father figure as his dad was killed in combat a few years ago. He is able to talk to me openly in a way that he never could with his dad or his mother.

Here's the story as told to me. My girl friend's son is named Jack and my nephew is Stuart. The two boys were playing a video game when my girl friend told them she had to run to the store. As soon as she left they got onto my computer and were checking out some sex sites. One that I had bookmarked is xnxx.com and they were watching a number of videos and both getting really turned on. Stuart, who is a bit more outgoing than Jack, unzipped his pants and took out his erect penis. Jack, who was telling me the story, said that at first he was really kind of shocked but once he saw Stuart's cock, his inhibitions fell away and he took his cock out as well. Then both boys started stroking their cocks. Jack said that Stuart was partially circumcised but still had enough foreskin to slide it up over about half of his bulging cockhead. Jack is fully cut. Jack said he was fascinated seeing Stuart rolling his foreskin back and forth over his cockhead and in a rare moment for a relatively shy kid, asked Stuart if he could feel his foreskin slide back and forth since he had never had that experience.

Then the two boys retired to Jack's room and continued masturbating each other. One thing they had seen on the internet was two guys placing their cocks together and jacking them both off until they experienced a mutual orgasm. I could relate to this as I have done it several times (with adult men). They thought it would be great to try this. So they got into a position where they could put the bottom of their two cocks against one another and began rubbing them up and down. Considering the fun they were having they lost track of time and Jack's mother returned from the store. When she didn't see them in the living room playing their video game she went to Jack's room, which was just down the hall from the living room. The door was partially open so she walked in. Only to see two bright red pricks spurting fountains of white cum all over the two naked boys. To say the least she was shocked to the core. My gf is very liberal and broad-minded but I guess what she saw was even too much for her. Especially since one of the boys was her own son. She screamed at them to stop immediately and to get cleaned up and dressed. Jack told me that he and Stuart both nearly crapped themselves with shame and embarrassment but he also told me that he was very happy that they had managed to squirt out their juice before they got caught. Having to stop just before orgasm would have ruined the whole experience.

My gf told me later that once they got dressed and returned to the video games, she didn't know what to say to them other than to wait until I got home and she would have me address the situation. And when I did get home, she related the entire scene to me. Or at least the part she had observed. I told her to relax, it wasn't anything that millions of other 16 year olds hadn't done. I related some of my experiences at the age of 16, which in many cases were a lot more shocking than what she had seen. That seemed to calm her down.

I got the two boys together and asked Jack to tell me the entire story and not to leave out any details. Which he did with Stuart filling in a few things he overlooked. I told them both not to worry about it. No big deal. All boys their age masturbated. And they had nothing to be ashamed of. I told them the cock-to-cock jackoff was a bit advanced for boys their age but also told them I had done it numerous times and that it was very exciting and a fun way to bond with your best friend. I just warned them that they had to be more careful in the future and make sure that when they were playing with their cocks, to be certain that there was no chance of being caught.

Later, after discussing it in detail with my gf, we both were pretty horny and because of the two spurting cocks she had seen earlier, she wanted to experience it again with me. So along with a lot of other sexual interplay, we ended up with her jerking me off to a massive cumshot.