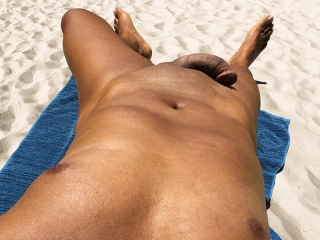 Mutual fun at the beach.
It was a warm, sunny day, so I drove down to the beach wearing nothing but an ankle bracelet. I wrapped a towel around my waist and walked down to the sand. I found a partially shady spot so I could sun and then relax in the shade when I felt like it. I removed the towel, spread it out on the sand and oiled myself up and lay back to soak up the rays.

I dozed for a mew minutes until I heard a polite cough. I opened my eyes, and a young man was standing above me in a speedo. He was smooth and tanned, wearing glasses. He smiled and said hi. I sat up and invited him to sit and chill on my towel (it was wide enough for two people). He sat down eagerly and we began to make small talk. I was completely nude, but it didn't seem to bother him.

We eventually stared talking about the volcano erupting on the big island. He said he had friends living near the eruption and he was really worried for them. I put my hand on his thigh to comfort him, and I felt his thigh muscles twitch in a way that signaled he liked it. "I'm sure they'll be okay," I assured him, and my finger tips lightly brushed up against his semi-hard bulge. I could feel the vein of his cock pulse, so I began to lightly stroke and tickle him through his speedo. He smiled, and I knew that's he wanted all along. He stiffened up quickly, and soon his hardened cock head was pushed up tight against the spandex. "Let me know if you want me to stop." I whispered to him. He leaned his head back and enjoyed my strokes. I pulled the speedo down and let his full erection spring to life. It was a beautiful, slender cock, smooth and tanned. I caressed it lightly, brushing the underside up to the head. He let out a deep breath, and without opening his eyes, reached for my cock and started to caress it, rubbing the oiled shaft slowly up and down. It felt terrific. I drizzled oil on my right hand, and applied it to his cock, letting it drip down his balls. He started stroking me faster, and I knew he was getting close. I tickled his balls with one hand and stroked him with the other. His body started to flex and he started to moan. I slowed down to prolong his pleasure, but he was impatient and took his cock in his own hand and stroked furiously, staring at me, and I patiently played with my hard-on. His mouth was open and his breathing getting faster. Then with a big smile on his face, he had an eruption of his own. Cum spurted out and up onto his chest and stomach. I cupped his balls as his spasms continued until he was drained. He caught his breath, opened his eyes and fixed his gaze on me and on my cock. He bent down and licked it from base to tip. I was using pure coconut oil, so I know I tasted good. He gripped the base of my cock with one hand and began to suck on the top half while he stroked the lower half and caressed my balls. "Come on, uncle . . . cum for me." He whispered over and over. "Okay, here I cum!" I whispered back to him, and then surrendered to the pleasure and released all over myself. "Mmm. Thanks." I told him. "No, thank YOU." He replied, went down to the water to clean himself up. He came back, pulled his speedo back on, sat next to me, tracing the pools of cum on my torso with his finger. He licked his finger and giggled. "What are you going to do now?" he asked. "I might wait a little while and try for another orgasm later." "I'll wait too," he said cheerfully.

We chatted about random things, my job, his job, until I felt my cock start to fill out again. I began to stroke it, but he pushed my hand out of the way and took over. I tried reaching for his cock, but he pushed my hand away. "Not ready yet." He took his time with me, coaxing me to the second orgasm. It came like a hammer. He held my cock firmly as the waves of orgasm wrenched my body up and down. My cum trickled down his hand. The sun was starting to go down. "Time to go," I told him. "See you tomorrow, maybe." He said, washed his hands in the water and sauntered on down the beach with a big smile on his face.