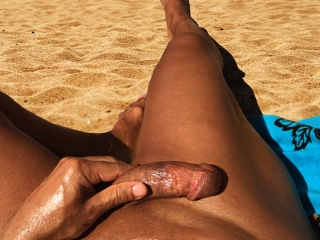 A hot JO encounter with a stranger who caught me swimming and sunning nude.
He came down to the beach while I was in the water swimming laps along the links of sand. Mine was the only towel on the beach, and I saw him scan the horizon looking for the towels owner. Eventually he saw me and came to the waters edge. He smiled a big smile when he noticed that I was naked. I made sure to flip over on my back and do some backstrokes so he could see my cock is hard and covered in suntan oil. He watched for a few minutes and then walked farther down the beach.

When he was out of sight, I came out of the water, lay on my towel and began to slather myself with coconut oil. In a few minutes he was back standing at the far end of the beach watching intently as I lay there basking in the sun. I could feel his eyes watching and I knew he was staring at my cock. I reached for the bottle of oil. It was hot from sitting in the sun. The warm oil felt great as a drizzled it on my chest and my stomach and my throbbing cock. I was lost in the sensations for a few minutes as I rubbed the warm oil into my skin, making sure to stroke my cock slowly, adding some extra oil to keep it slick and sensitive. I released it and watched it twitch with anticipation as the warm sun made it seem redder and more swollen.

I turned to see my observer had pulled his shorts down and was slowly stroking his cock with his eyes fixed on me. I smiled and waved and angled myself on my side so I could watch him while stroking myself. We locked eyes and stroked ourselves while keeping time with each other. We were sliding our hands so slowly over our hard cocks. It was intensely exciting. I could feel my breathing getting harder and my cock start to stiffen to its full length and hardness. My observer looked around to make sure no one was around. He stepped out of his shorts, slipped his shirt over his head and started walking over to me, leaving his clothes in a pile on the sand behind him. His cock bobbed and pulsed as he walked. I could see he was also breathing hard. I never stopped stroking, watching him the entire time. I licked my lips at the sight of his long cock. He groaned a little at the sight of my tongue.

As he got closer, his cock suddenly jerked upwards. He stopped in his tracks and his legs buckled as the cum erupted from his cock. He grabbed it with one hand and held it tight as the cum shot, then drizzled onto the sand in front of him. He looked like he would fall over, but sank down to his knees instead. The cum oozed out and ran down his shaft. I could see his cock still pulsing even though the cum had stopped. It was more than enough for me. I lay back on my back and felt a huge rush as the orgasm shot through my spine. My cum spilled onto my stomach and chest, mingled with the oil and ran down my sides. I took a few minutes to savor the pleasure and then smiled at my new jerkoff buddy. He was sitting now on the sand catching his breath. He want down to the water the clean up. I relaxed and decided to enjoy the warm cum and oil on my body. When I opened my eyes in a few minutes, he was gone.