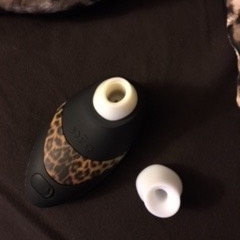 My experience of shopping for, buying, and using a new sex toy.
Shopping for a new sex toy



Since I was old enough to enter a sex shop I became an avid browser. Back then the closet one was F-Street in San Diego. Now, there are 3-4 within a few miles of me. It is quite a fun experience going to the sex shop. The anticipation builds up as I think of the details beforehand. The drive there is like a pre climatic feeling. Parking and walking in brings excitement. The thrill of walking in and not knowing where to start because it all looks so fun. On this particular visit I wanted to find something that would put me over the top. The cute gal helping me was very enthusiastic about a toy called The Womanizer. Just the name brought me a jolt of chills. She said it was an oral simulator. I laughed thinking to myself how can a toy give better oral than a hot tongue and talented lips. I asked if she had tried it. She said yes she had and began to explain to me how it worked.



As she explained this to me I was getting excited and wished I could touch myself and see if I was as wet as I thought I was. The entire situation was hot as this gal was telling me how she had never cum like this before and she is a true fan of this toy. I was not particularly attracted to her, but I envisioned her on her back using this toy and this made me very horny. I said I would look around and come back to it.



The thought of cumming as good as she said this toy makes her cum made me feel as though I would be missing a once in a lifetime chance at having even better orgasms. What a great sales woman!!! She definitely had me near sold. Even still I began to look around more at other toys. The huge dildos that would spread my pussy wide apart were enticing. The anal plugs always get me hot and horny. Even some of the BDSM items gets me aroused with curiosity. The fun bedroom game toys look great if one has a partner to play with. The little clit vibrators always look fun but are typically too much stimulation for my little clit. I always find that a nice hard dildo and pressure over my mound makes me cum hard.



I grabbed a piece of lingerie and took it to the fitting room. I do like lingerie but to be perfectly honest thats not why I took it to the room. I didn't even bother trying it on. Instead took this opportunity to play with myself a little. I slipped my pants off and then my cute little undie's followed. I sat on the bench in the room and slid my fingers down to the area that brings me such joy and happiness. Indeed, I was as wet as I thought I was and then some. For a few minutes I plunged my 2 fingers deep inside of myself and using my thumb massaged my clit. It was kind of loud due to my wetness. It kept making a squish squish noise as I played. The lady came in the area and knocked at my door asking if I needed any help with anything. When she said 'anything' I wondered did she really mean "ANYTHING". I got even more excited of the thought of her joining me in my moment of bliss. I wanted to reply with 'Oh yes…I could definitely use some help in here if you want to bring in a dildo and that Womanizer toy so you can try it on me' Wouldn't THAT be great customer service??!! hehehehe



I finally was able to convey to her that I was fine and that the lingerie wasn't going to work and that I would be right out. So I wiped my fingers off and put my pants back on and promised my sweet wet anxious pussy that I would tend to her after we got home. I exited the fitting room and went straight to the cashier and asked for the womanizer. As I was pulling my wallet out I caught a whiff of my pussy scent from my fingers. Whoops! I hoped that I was the only one who could smell this. Hehehe. So, I bought the new toy and she gave me some flavored lube packets and some information of upcoming sales events. I didn't really care though as I had only one thing in mind. I wanted to get home, clean this Womanizer thing and give it a try.



The drive home was not fast enough. I had to keep from speeding unless I wanted to get pulled over by a cop and have my plans to get home stalled. Unless of course the officer wouldn't mind letting 'get off' so to speak if I told him why I was so anxious to get home. Hehehehe



When I arrived home I couldn't get my keys out fast enough to unlock my door. I walked feverishly to my bedroom and immediately opened my new toy hoping it was all that the gal at the store made it out to be. I read the instruction and cleaned it 3 times to make sure it was all good to go. Even when I'm being dirty I like to be clean about it. Hahaha.



I put on one of my favorite go to porn videos of a man jacking off in his car at a rest stop. This is one of my favorites because I love how raw and real it is. You can see his penis through his jeans as he grow's harder and harder. And the end always makes me so horny as he strokes his cock relentlessly to orgasm spewing all over his jeans. His cock veins are so distinct and the tip of his penis is almost purple.



As I watch my video I began with inserting my finger into my swampy wet vagina. I spread the wetness from inside myself to my precious clit. I started up the toy which was actually not as loud as I thought it would be. It is supposed to be placed around the clit and that is when it starts its suctioning. It was a very light suckle…almost like a tickle. I wasn't sure what I thought of it yet. I remembered what the cute gal at the sex shop said about letting it work on you for a few moments. So I did, I let that toy suckle my clit and I started to feel something new as my orgasm started to build already. I couldn't believe how fast this was working. I thought it does feel good, but I wondered if could bring me all the way to cumming. I turned up the intensity a bit more and OMG it was sooooo nice. I was on my back with this toy sucking my clit. I could hear the video of the guy in the car jacking off his penis and hearing his moans made me start to loose myself.



I wondered if I should make myself stop so I don't cum too fast. I am not a very good edger. Hahaha I just went with it…the orgasm was building so amazingly strong. I was oozing creamy wetness from my pussy by this time….I realized I didn't grab a towel and I thought to myself, "oh great, now I am going to have to wash the blankets again". Haha Oh well!



There I was on my back twitching as the toy brought me closer to orgasm. As I was looking up towards the ceiling I thought I was in heaven. My eyes not really focusing on anything in particular just rolling back into my head every so often. My video was over already and I didn't bother stopping to rewind to the part where he cums as that always makes me go harder. I knew I was not gonna need it this time….with every second that passed my pussy was convulsing with pleasure as was my body. I laid there and let the orgasm take over and I couldn't help but let out a few moans and some choice words hehehe. My body moved up and down and squirmed around as I started to cum so very hard. As I came I squirted harder than I ever had before. It reached the wall across the walkway from my bed. I remember seeing it fly like a sprinkler. The towel I didn't use wouldn't have done any good after all. The orgasm was strong and shattering. I laid in the aftermath of it and could feel my pussy continue to have the aftershocks and contractions I have come accustomed to feeling following an orgasm. But this one was particularly strong so the contractions lasted a few minutes. I was still dripping and I could feel it run down my anal opening almost tickling it and then to the bed as it pooled up under my ass.



Yep…the gal at the shop was right. This toy was amazing.