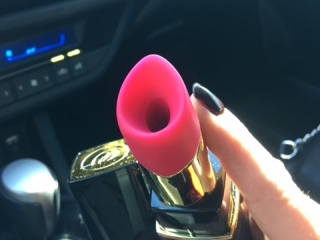 I had my eye on a different model of the Womanizer and I found it last night! Random fun night.
I have a sex toy called The Womanizer (Another Story) that I absolutely love when I am not using my fingers, dildos or whatever random objects I have used in the past. However, I found a new and improved WATERPROOF one that is discreet and looks like a perfume bottle that I can carry in my purse with me. This is like a gold mine for a gal like me.

I was slightly bored last night and feeling like I wanted to chit chat so I headed out to have a glass of wine at a small local Italian place close by. I had a nice red wine with a small appetizer while thinking about the sex shop next door. It would be my next stop.

As I sat and bullshitted with the bartender and waitress's, we all witnessed a sad and pathetic first date happening in front of us. It was interesting to overhear. The man kept looking up as if he was silently searching for an out. I wondered if he was going to hang in there for the duration of the date, one of those that would stay to be polite or drop it as soon as he could. I did not particularly want to hear there sad interactions but…well…it was RIGHT there! The lady kept making comments about how boring she must be to listen to while scrolling for through her phone. If he was my date I would not have been staring at my phone, I would have been staring elsewhere, I will tell you that!

The bartender and I exchanged glances and smirks as each moment unfolded before us. I wondered how many of these first date encounter he had to witness every night! This poor dude on the date was probably ready to run as he kept trying to keep his head in the game with her endless self derogatory comments despite his attempts to assure her. I wondered if she was purposely trying to sabotage the date! Luckily they were only there a short time until their table was ready. Even then, their table was only another 2-3 feet away from the bar!!! He excused himself to go to the bathroom at one point and was there quite a long time. Then she went to the bathroom and while she was there he had the food boxed up. I was tempted for a moment to tell them there was a sex shop next door as a last resort to spice up their evening…then I thought better of it.

As the evening went on exchanging stories with the bartender and his wife who was the hostess, my thoughts kept jerking me back to the sex shop and wondering if they had the waterproof version of my favorite toy. I knew I had points to redeem from prior purchases and a 25% discount coming. I close out my tab at the Italian place and said good bye to my new friends as I made my way out the door and over to the sex shop.

For a moment I wondered how many of those pathetic first dates came in here to try to spice it up to make up for a failed connection. I am always my own date in these circumstances. Hey, at least I like good company even if it is only my own. I walked in the shop and headed straight to where I knew they held the Womanizers.

AHHHHHHH behold, the waterproof one was in!! No more bogging down and flooding the motor when I orgasmed. Yippie!!! You know…it REALLY is the small things in life that can make BIG difference. This one however was super special as it is disguised as a lipstick, or perfume bottle with a lid! (See photo)

I was so happy and even more happy that I got a killer deal on it. I took that bad girl to the register and the woman behind the counter asked me if I would come back and let her know how I liked it. I wanted to say I would let her watch me then she can judge for herself…But…..I thought better of it. I hold my tongue often.

I took home my toy and cleaned and let it charge overnight. Since I had to work and was running late I had to wait ALLLL day long to try it. Upon my return home I was able to relax in my room and start exploring this new toy. I held it to my lips as I tuned it on and felt the soft suckling power it had. It was perfect. I became extremely excited as I made my way to my glorious clit. It had been about 3 days since I had orgasmed…Been busy…so I found myself riding right into an orgasm within the first few seconds of it being on my clit. I wasn't gonna hold back I just let it take me where it wanted me to go. Straight into mind blowing orgasmland. Yep..I love the new toy. I Highly recommend one to a gal.

I thought about calling the lady at the sex shop to let her know she ought to get one for herself.