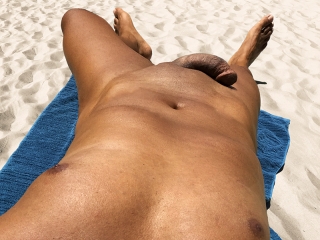 Just back from business trip to France.  Explored some nude beaches, and had some fun.

I was just in France, near the Mediterranean coast. Decided to try one of the beaches nearby. It was a sweltering hot day and the water looked great. It was a weekday, so there was actually room to lay out a large towel and have some space. I picked a spot down near the water. I rubbed a light oil over my body and lay back to enjoy the sun.

A group of older French men came strolling and talking down the beach. I heard them chuckling but couldn't understand what they were saying. They stopped where I was and said "Bonjour", then "Hola." I responded with "Hello". "Ah, you are American?" "Yes," I replied. "Is this your first time here?" "Yes, itʻs lovely." "Ah, you like France? We should give you a French welcome."

With that, the three of them came and sat next to me, two on one side and one on the other. One of the men began to rub my thigh. "Your tan is very nice," he said. "Very dark."

He then proceeded to gently pull on my cock. I looked around the beach, not sure if this was allowed. He laughed. "Don't worry. No one will mind!" I realized that they were seated to prevent anyone from seeing what they were doing to me. Another of the men began to pinch my nipples and caress my chest. I was getting very hard, but a little nervous. This was a public beach and people were still walking by, most of them men who stopped to watch and smile. Soon there was a small circle of guys around me, watching me get stroked off and playing with their cocks. I put my hands behind my head and watched my cock stiffen and swell until it was standing vertical.

My new friend's hand was now gripping it and sliding up and down slowly. He slowed down even more and my body writhed, wanting more. Everyone chuckled as I arched my back and let out a moan.

I let out a deep breath, trying to gain control over the sensations, when he suddenly began to speed up his strokes. His friends cupped my balls and gently massaged them. It was too much. My body began to heave and great gobs of cum came shooting out onto my neck and chest. A couple of the guys came as well onto the sand. The guy who was stroking me milked the last drops of cum from my throbbing cock, then patted me on the chest and pinched my nipple.

"Welcome to France!" he whispered, and then he and his friends got up and continued down the beach like nothing had happened.