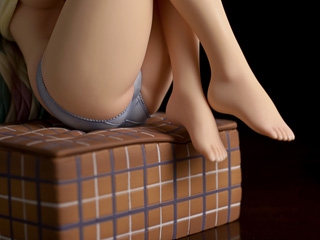 I thought I would have enough time to get off alone, but I was wrong.
My best friend Kara and I got an apartment together about a month and a half ago. Those who haven't read my other stories need to know that Kara and I are friends-with-benefits. We've masturbated together since we were 13, we've had sex with each other many times, and we've had some threesomes together.

I was sitting around in our living after having dinner alone. Kara was at a night class she is taking so I figured I had an hour or two to myself. We had my laptop connected to the living room TV so I pulled up some lesbian porn on it and started jilling with my hand down my shorts. All I had on was the shorts and a tee shirt with no underwear at all.

I had been at it for maybe ten minutes when I heard some noise at the door. I heard keys slide into the lock and seconds later Kara was standing there looking at me with my hand down my shorts.

"You're home early," I said to her.

"Class let out early. Was it too early or not early enough?" she asked with a sly grin as she looked at the TV.

"I would say it was perfect timing if you feel like joining me."

She laughed and said "You have fun. I really need a shower." And with that she left me on my own again. She dropped her stuff off in her room and a few minutes later she was in the shower.

I started back up rubbing myself, but just a few minutes later the video was over and I had to go over to the laptop to search for something else. It took me a few minutes to find something to my tastes. I pulled my shorts off and settled back down on the couch and resumed.

A few minutes later Kara came out of her room wearing a night shirt and some panties and sat down in one of our chairs.

"You want to join in now?" I asked.

"I think I just want to watch tonight," she answered.

She curled herself up in the chair and just watched as I pleasured myself. With an audience I started to perform a little bit, but when I started to get up to give her a real show she told me to just pretend she was wasn't there so I sat back down and just focused on getting myself off.

Even though we have been together many times it was still super hot having her watch me like that. Before the end of the video I was shivering and shaking with an intense orgasm. As I am laying back on the couch catching my breath Kara stands up and walks over. She bends over and kisses the top of my head and says "That was beautiful." Then she heads into the kitchen to get some dinner. We watch TV and talk while she eats. I don't even bother to put my shorts back on. A little while after she is done eating she takes her dirty bowl to the kitchen and then stands next to the couch and holds her hand out to me. I take it and she pulls me up and leads me into her bedroom.