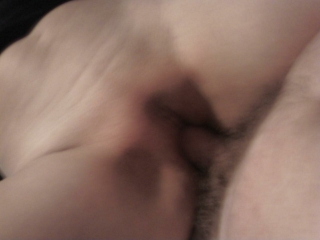 The rest of my night with Tom and Tami, after falling asleep on their sofa.
I was awakened by the sound of footsteps, and looked up from the sofa to see Tom and Tami, naked, going out the sliding door and onto the deck. It was a warm summer night, they had left the porch light on, and I could see everything clearly through the door. I watched as they kissed and caressed each other. Then Tom picked up Tami, and she wrapped her legs around his waist. I couldn't take it any more, and went outside to join them. I embraced Tami from behind, while I rubbed my cock on the small of her back.

From there, another series of vignettes:
Me tonguing Tami from behind while she bent over to suck Tom - Tom and I pressing our dicks against each other and jacking them together - Tami sucking both of us at the same time and rubbing our dickheads together - My peeing through my boner off the deck while they watched - Tom bending over, and me simulating anal sex by stroking my cock along his ass to excite Tami - Tom, Tami and I all kissing each other together (I had never kissed a man before) Tami gently sucking and licking my testicles and tugging my penis, while Tom masturbated her clit Tom and I taking turns licking Tami to a wet orgasm. All of this combined with the added excitement of being outdoors and totally exposed!

Eventually we moved indoors to the sofa, and opened the bottle of wine I brought. They set up a strobe light, put on some music, and Tami began changing costumes and dancing seductively. (These were the only clothes she wore all night.) Finally, she stripped down again and settled in between us, to resume playing and caressing and feeling each other until we were all about to explode.

We again moved to the bedroom. It was my turn to penetrate Tami, but I have always had problems with most condoms (too tight) and so eventually all three of us masturbated again and orgasmed together, almost simultaneously. It was Tami's bucking hips that set the guys off. Tom's semen dribbled onto her side, while mine again spurted pretty far, hitting her on the chest and opposite side.

Spent, we cuddled in the bed, Tami in the middle, and fell asleep. The next morning, Tom got up first and went outside to work on his truck. When I woke up, I was spooning Tami, and was instantly aware that my penis was pressed against her naked butt. I began to softly rub my hardened cock up and down her ass while I reached around and cupped her breast. She was still very sleepy, but didn't seem to mind my attention. I humped against her slow, and sensual, and urgent, until I came against her ass. Then it was time for me to resume my trip. I wiped up, found my clothes on the floor of the living room, and got dressed. When I returned to the bedroom to say goodbye, Tami was sitting up, covered with the sheet, and with her lovely breasts exposed. I gave her a kiss, gently caressed a nipple and said goodbye. Outside, I hugged Tom and said goodbye to him, and got in my car.

For the remaining 60 miles of my trip, I was very conscious of the overwhelming smell of sex that clung to me especially when I had to enter a shop to pay for gas. When I reached my destination, the first thing I did was shower.