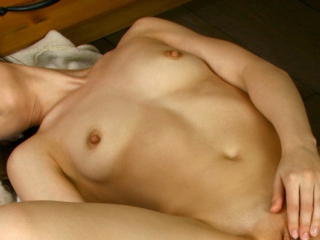 Curiosity leads to sexual awakening.
We live in an old house. The doors all have keyholes you can look through. A few years ago, I would peek through my brother's keyhole but couldn't see very much. He would sit naked on his chair looking at his computer, his back to the door and my spying eye. I could tell that his arm was pumping up and down in his lap but couldn't see much else. My imagination ran wild trying to guess what he was doing. It looked to me that he was pounding on his crotch. And what was he looking at on the computer that his fat head was blocking from my view?
Every chance I had, I would sneak into his room and look at his computer and open the browser history but he always cleared it. Then I got the idea to look for videos. Bingo! I found his collection of pornos. I opened one up and was astonished at what I saw. A naked girl rubbing between her legs. What was she doing? I didn't know. All I could imagine was that she had an infection or rash and was itching it. But as I watched, it became apparent that it was something else.
I heard the front door slam downstairs. Quickly I closed the video and ran out of his room and down the stairs as he was coming up. We didn't say anything to each other as I flew down past him. He swatted the back of my head and without even turning around, I flung my arm back and smacked him on the ass. I kept on going and ran outside and across the street to my best friend's house. I told her what I saw on his computer. She became intensely interested.
While recounting all I had seen, I felt a strange sensation between my legs. I noticed my nipples had stiffened and were acutely sensitive. These sensations I dismissed without paying them much attention. But as we talked and giggled and formulated a plan to show her his videos, my attention began to focus on my new sensations. It actually felt really nice. We planned for her to come home with me after school tomorrow before my brother gets home.
Next day, we were in his room looking at the same video I saw the day before. We watched it, speechless. Then Jenny said she wished she looked as pretty as the girl in the video. I looked at her and saw her in a different way than before. She was really pretty and I told her so. "No" she said, "I mean her body." We both had just began puberty. We knew our bodies were changing. I reminded her of this. She said she couldn't wait until her tits looked like the girl in the video. "I know, me too" I said.
We looked at each other for a moment. Then as if on cue, we both began to unbutton our blouses and unsnap our bras. We compared our tits. Actually at the time, I didn't have much, other than small mounds with nipples. (Truthfully, they have only grown a little bit more since then. See my profile pic.) Jenn's were even smaller. The girl in the video had smallish tits but they looked large compared to ours. We sighed, and hoped that someday we'd be as attractive as the video girl. "Sam will be home soon." I said, and we quickly redid our clothing, closed the video, scampered out of his room, out of the house and over to Jenn's.
In her room we were just sitting around and texting friends when Jenn said "Let's try it." "Try what" I asked. "This," she said and rubbed a couple of strokes on her crotch on the outside of her skirt. We both laughed and I said "I gotta go." I went back home and up to my room, my head swirling with excitement, both from the tingling between my legs and from Jenn's suggestion. As you might have guessed by now, I did indeed try rubbing myself and it felt really nice. I texted Jenn and asked if she had tried it and she had. We exchanged descriptions of how it felt, how we did it, and so on. Then Jenn texted that she wanted to try it naked like in the video and I told her to go for it and let me know how it goes. Then she didn't text anything for a long time. Until I got a new msg: "WOW!!!!!!!" was all she wrote. I kept asking what happened and all she texted back was "WOW WOW WOWWOWWOW!!!!". Finally she called me and said that I gotta try it naked. She wouldn't say why, just "Try it, you'll see". I said I'd do it tonight in bed and she said that she will too.
That night, we stayed in touch via text while we masturbated naked at the same time. My first orgasm shuddered through me that night, and then two more soon after. Jenn said she had four. Over the next few weeks, Jenn and I progressed to mutual masturbation, oral and especially sixty-nine. I just recently purchased my first dildo and we have both used it. Oh, and I figured out what my brother had been up to when I watched him through the keyhole. But I'm sure you knew all along. He still does it by the way and I still peek in on him.