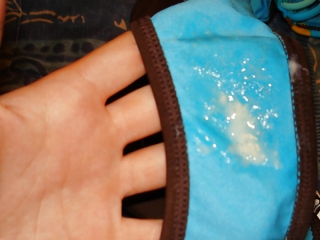 I Masturbate In Other Girls Panties
It's been awhile since I've done this, but I started doing it when I was in high school. It's in connection with my panty fetish. A nice clean pair of panties that belong to someone else, yea. I've only done it with girls I know really well, and most of the time I told them about it.
The one I did it with the most though is my sister's. They were the most available and that was fun too. Later when we talked about all kinds of stuff, we talked about how we both did it with each other's panties. I knew she was doing it in mine, and she apparently had come to the same conclusion. Actually, me doing it in her's is what caused her to want to do it in mine.
Basically what I do is I grab a clean pair of either boyshorts or bikini panties, never a thong, just because, and put them on. I will then find a place where I can rub one off while wearing them, making sure to cum in them. Sometimes, if I can, I'll do it on that persons bed (my sister's bed had me doing this a lot) so I can return them right away. After I've orgasmed in them and made them nice and wet, and of course I've satisfied myself, I'll fold them up as they were and return them to the spot I got them from, hoping of course that the intended person wears them thinking they're clean.