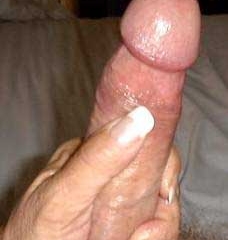 This experience was with the same woman in my earlier story titled The Utlimate Blowjob. That story was a fictionalized version of a real experience. The following story is 100% true. Above photo is her holding my cock.
I used to get my haircut by Suzie, one of my wife's friends, who was a hairdresser. Then I got divorced and coincidentally so did Suzie. I continued to have her cut my hair and then I moved to take a different job. My new home was about a 45 minute to one-hour drive from where Suzie lived.

I wanted her to continue to cut my hair but did not want to drive all the way to the shop where she worked so I called her up and asked her if she would be willing to drive to my place to cut my hair and I would make it worth her while. She jumped at the offer.

The first time she drove to my place she cut my hair and I asked her if she would trim my pubes. No problem. Of course giving me a trim job involved her holding my prick out of the way and naturally it got hard. I already knew that Suzie loved her champagne and I had a bottle ready and waiting. After a few glasses of champagne and holding my hard cock in her hand, she went down on me. That was just the beginning of a very eventful evening. She ended up spending the night and that was the beginning of a roughly two-year relationship. No romance was involved. This was a pure fuck buddy experience.

Although we saw each other a few times a month we had a standing monthly visit for a haircut. This visit had evolved into kind of a standard routine. Because I knew in advance when she was coming I would usually edge myself over a period of a couple of days so by the time she arrived, I was more than ready. At the time I was working out of my house so I had plenty of time to edge my cock.

Once she arrived I would strip naked. She stayed dressed. I would position a chair in the middle of my kitchen area, which had a marble floor. She would cut my hair and then trim my pubes, which always resulted in an erection. While holding my cock she would casually stroke it keeping me rock hard.

The next step varied. Some days she would kneel before me and suck me off. Other times she would jack me off. That might take place with me standing up and her behind me, her left arm around my waist while her right hand would reach around and jack me off.

She loved to see my cum shoot and sometimes I would do the jacking while sitting in the chair with her standing there watching me. She was fascinated by how far I could spurt. Of course the force of my ejaculation was mostly due to two days of edging. One time after I shot one helluva load she got a measuring tape out of my kitchen drawer and measured from the leading edge of the chair to the most distant blob of cum. It was just an inch or so short of five feet. I don't know how many guys she had seen cum but she told me she had never seen anybody shoot a load of semen like that. She started calling me Spurtz and the nickname stuck.

One day a haircut day was scheduled. I did my usual edging so I could get off a nice spurting climax for her. But when she arrived she had a girl friend with her. I was terribly disappointed because I figured no sex play on that day. I had met this girl once very briefly some months prior but didn't know her at all.

So we went through the original routine with me in the chair while she cut my hair but this time I was totally dressed. Near the end of the haircut Kathy, the friend, went out on the balcony for a smoke. While she was out there Suzie asked me if I wanted her to trim my pubes. I said What about Kathy? And she responded, She's seen a dick before.

At this point I figured the whole thing was a put up deal and that Suzie had brought Kathy along to see me perform. Suzie was extremely bold and liked to do crazy shit that would embarrass me so I could fully see her bringing Kathy along to watch me jerk off.

About this time Kathy returned from the balcony and took a seat in the kitchen dining nook that was right next to where I was sitting. I stood up and started taking off my pants. As I pulled down my underpants I looked at Kathy to see what her reaction was. As my dick flopped out I could see that she looked like the proverbial deer caught in the headlights. I realized right away that this was another one of Suzie's practical jokes as poor Kathy had no idea what was going on.

By then I was already mentally committed to whatever Suzie had planned. So I stripped off my t-shirt, shoes and socks and sat down in the chair completely naked. Suzie started trimming my pubic hair with a nice grip on my cock, giving it a few strokes while she worked away. Of course I got immediately hard. It only took her a few minutes to finish the trim. She stroked my cock and looked at Kathy and said, This guy can shoot a load of cum about five feet. Wanna see him do it?

Sure, Kathy replied with a look of confusion on her face. So I started stroking away. I had to slow down a few times to keep from cumming too soon. But after way too short a time I couldn't hold back any longer with two women in front of me watching me masturbate my now raging hard cock. I shot two really strong spurts of semen, easily matching the longest previous spurts. These were followed by a number of lesser shots. In all it was a copious amount of cum splattered across my kitchen floor. I milked every last drop of cum from my prick. Suzie was laughing while Kathy's eyes never left my cock. Suzie had already run some warm water on a wash cloth and handed it to Kathy suggesting that she clean me up.

My prick had some cum remnants on the tip and Kathy gently took hold of my still hard cock and wiped all the cum residue from the tip. Up until then Kathy hadn't said a word but as she wiped my cock clean she told me it was the hottest thing she had ever seen.

After they left I was sorry that I hadn't tried to initiate some more action with the two of them but after that huge orgasm I had I wasn't thinking too straight. The two of them took off shortly after I finished my little show.

I had great hopes for a repeat performance but not long after that Suzie moved to Arizona to stay with her mom. I saw her a few times after that. By that time she had some guy she had hooked up with and I remember one time they had driven back to L.A. together and she came by to cut my hair while he sat in the car outside and waited. She gave me a blowjob that time. I was in the mood for a really hot fuck but she wouldn't fuck me because she was with this guy. But it was ok to suck me off. Women, I will never understand how their mind works.

One other thing she used to do that would drive me crazy was after she either jacked me off or sucked me off she would grab the base of my prick with one hand and squeeze it really hard forcing the blood into the head of my prick and then she would take her thumb and forefingers and massage my cock head. At that point my prick was super sensitive and the massaging action just intensified the sensitivity to the point where I really couldn't stand it. Of course she knew this and no matter how hard I tried to wriggle away or tell her to stop she would just keep rubbing my poor dick head laughing the whole time at my discomfort.

The photo at the top of this story is Suzie stroking my cock.