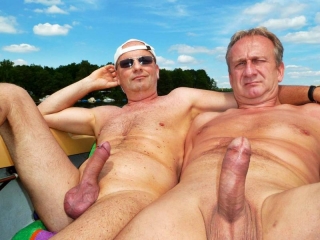 I've been hanging out with a couple (man and woman) and we have masturbatory sex from time to time. What he likes most is gentle stroking, tickling, really, especially on his frenulum - the underside near the tip. She likes it rougher. She and I have been playing with fisting, but I haven't quite got it all the way in her yet. Oh, and she can have long, continuous orgasms, and is always ready for more! I like having the glans of my dick rubbed hard with the palm of a hand - anyone's hand. I can't stand it, and I love it all at the same time. Sometimes I cum with no other stimulation than that. I haven't seen them in a couple of weeks, so I thought I'd drop them a fun little email.
I attached a picture I found showing two men with fully hard erections on the beach. they are laying back, side by side, looking at something. Here's what I wrote: In my opinion, these guys are not gay - not that it matters. Don't you two think that it is cool that two guys who are friends can hang out, show their arousal, perhaps at something/someone they're currently looking at, or perhaps they are aroused because of something they've been discussing, or maybe, they just like to get hard when they're outdoors and hanging with friends.
Wouldn't it be great if in our society, that would be just the way it is? I think Marko has a bit of that quality. That he is not afraid of what people think, and that, of course, is a good thing. I would love to get hard at a mixed gender nude beach, and just walk around letting everyone see my erected penis, and let them think what they may. That I'm gay, straight, whatever, and all is cool. And in my fantasy, they might start to participate with me. But I'm still way too shy for that reality.
One day, a few years ago on Blacks Beach, the famous nude beach near San Diego, at a time when people simply didn't show their arousal on the beach, I was just hanging out, along with a hundred other people. Most were just sitting or laying on their blankets on the sand. Most were white or Latino by the way. One guy went briskly walking by. He was tall and very black. As he walked, he was idly stroking his dick, which was fully hard, and singing loudly. I wish I knew him, because I would have been proud to say he's my friend. At least these days I would. At the time, I suppose I would have been embarrassed. What a shame!
On another occasion, I took a 19-year-old guy to the beach with me. He was a helper in my industrial refrigeration repair business. This was his first time at Blacks, and he was excited. When we got down the cliff and threw a blanket on the sand, he pulled down his shorts and was immediately hard. I told him that I was concerned people would get the wrong idea. (I was still afraid of being labeled 'gay' if you can believe that). I was also concerned because people didn't just display hardons on the beach.
He somehow pretended not to hear, or understand me, and started lightly masturbating. He sat there for a half-hour and continued stroking himself lightly on the blanket, while I walked away. I went down the beach because I was actually afraid of being 'with him.' I came back, and he was still masturbating. There were about six men and a woman idly talking with him now, standing around, and watching. Two of the men had developed their own erections as they were watching him. I mentioned to my young helper that it was time to get back up the cliff because we had an afternoon appointment. He jerked off harder and came right then and there. I was shocked at the time. But, by God, what a chicken I was. Oh, how I wish I could have handled it differently. I would have jerked right off with him, and enjoyed all the company on the beach!
True story. Do you like it? See you two soon, Your friend!