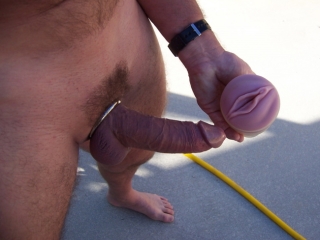 Lubing up, watching hot vids. and fucking one of my many masturbation sleeves.
I start out completely naked in front of my computer and start watching HOT vids. I get my lube, fleshlight, 2-speed vibrator, and get ready for a hot masturbation session!! I like to spray my man juice onto girls panties, DD bras, or X pics from magazines that I save just to shoot my load onto. I lube up my cock, 8.5" long and a thick 6" round, and start stroking.
When I get semi-hard, I start fucking one of my many masturbation sleeves. I put my vibrator on low speed and place it just below my shaved balls. While edging myself for a long time, my engorged cock is now ready to spew it's juice. I place one of my listed items in front of me while taking in the hot scenes. When I can't take it any longer, I stand up, take my engorged cock out of the sleeve, grab it with my lubed hand, and speed up my stroking.
I put the vibrator on high speed and aim my now ready cock to the bra, panties, or X picture. As I watch the video, I spray my built up juice and love to see it erupt from my hard cock!!! When I am drained of my load, I sit back down and put the vibrator on low speed. I keep up the stroking on my spent cock with my leaking cum and lube. I keep stroking slowly until my spasms stop. I don't wash the panties or bras until I spew about 5 good loads of my juice onto them. My cum looks hot when it is on the bra and panties.
I like to shoot my juice on the girls face, tits, or ass concerning the saved pictures. I really enjoy my long masturbation sessions and love to read stories/techniques on Solo Touch. I have taken many pictures of me soft, getting ready to masturbate, and some of the items with my hard cock on them. I also take pictures of my lubed cock on the items after I am done and going soft. I love to share pictures with others!!