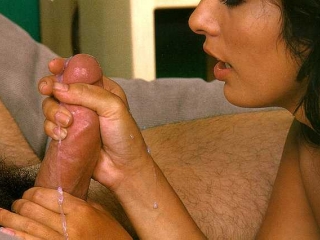 This occurred a few years ago. As strange as this sounds, this is a totally true story. Probably one of those once in a lifetime deals. The girl in the story had a real bad itch and as luck would have it, she found me to scratch it.

I posted a notice on a masturbation bulletin board about a proposed group jack in my area. I ended up with seven guys who said they would attend. So on a Saturday we had the session. As usual on these things, we had a lot of no shows. It ended up me, three other guys, and my girlfriend. She is a real hot little number and after we all got naked, she took turns jacking each cock. She would stroke each guy's cock and rub his balls for about two or three minutes and then move on to the next guy. She went around the room about three times giving each guy's cock some fabulous stroke action. She liberally lubed up each prick. Then when we were all bursting ready to cum, she had each of us, one at a time, lay on the sofa and she got between our legs and jacked us to orgasm. It was totally hot.

Then on Sunday morning, I checked my e-mail and had a message from a gal named Martina who had seen my bulletin board post. She said her fantasy had long been to be part of a group jack off and was anything planned? I barely had the heart to tell her she was one day late. She was disappointed but e-mailed me back with lots of questions. When I told her how things had gone, she said she wasn't sure she would want to actually jack anybody off. Her thing was watching a group of guys jack their cocks while she masturbated her clit and worked her pussy with a vibrator.

One thing led to another and we traded phone numbers. As big as L.A. is, it turned out that she lived only about 20 minutes from me. So we got on the phone and started some very, very sexy talk about masturbation and the group jack. She then asked me if she could get together with my gf and I and we could all watch each other masturbate. I told her I would ask my gf. I hung up the phone, called my gf and she was all for it. So we planned to do it Tuesday night at my house. Martina told me that she wouldn't mind watching me and my gf go all the way if we were up for it and I said that would be great and would she want to join in but she said she just wanted to watch and masturbate her clit and frig herself with her vibrator. I had fucked in front of another couple once before and it was totally hot. So the idea of this gal watching us fuck had me very excited.

On Monday my gf called to tell me she got her period and could we postpone it until the coming Saturday night. So I called Martina and told her this. She was cool with it but then asked if just the two of us could still hook up Tuesday and watch each other get off. I told her that I would have to clear it with the gf who is ultra liberal. And of course, my gf told me to go for it.

I asked Martina if she wanted to meet me at a local coffee shop to make sure she was ok with the plan. She said that wasn't necessary. It kind of surprised me that she was willing to just go for it without any preliminaries but after talking to her later I realized that the girl, for whatever reason, had a serious case of hot pants, and I think she just wanted to forge ahead while she was in the mood.

So that Tuesday night Martina showed up at my door. She had sent me her picture and I already knew she was attractive but her picture did not come close to doing her justice. She was very, very pretty with a nice body and a healthy rack. I showed her around my house. She was very impressed and really liked it. Then we got on my computer and looked at some really hot porn. She had some particular interests and I was able to find some great film clips of what she was looking for and before you know it she told me that she was totally wet. Of course by then my pants were tenting.

We then went to my bedroom which I had already set up with some candles and the DVD of 1001 Cum Shots 2 playing on my big screen tv. We stripped down and got on the bed. She had told me in advance that the ground rules were masturbation only. No fucking or sucking. So I started to stroke my already hard cock and she started rubbing her pussy. She said she wanted to see my cock up close. I am partially cut but still have enough foreskin to cover about half the head when hard. I had told her about this on the phone and now she wanted to see it up close. So I presented my hard cock to her right in front of her face and proceeded to slide the foreskin back and forth. She grabbed a bottle of lube and dripped some along the top of my cock and then wrapped her hand around it and started stroking.

This sort of surprised me because from the ground rules she had set, I wasn't sure if there would be any mutual touching. So I put one hand down to her pussy and started fingering her. She was already sopping wet. We masturbated each other for a while and then she lay back and spread her legs and pulled her lips apart and asked me what I thought. She had one of those perfect pussies with lips like petals and of course they glistened with her moisture. I told her she had a great looking pussy. Her pussy looked so damned good I had to go down on her which sent her into all kinds of moans and groans. Based on her ground rules I expected her to tell me not to do it but she never said a word about stopping.

She wanted me to slide up her body and put my cock between her tits, which I gladly did. She pushed her tits together capturing my cock between them and I proceeded to start stroking it back and forth between her boobs. As my cock would slide up towards her face she would flick her tongue out and give it a lick so I pushed a little further and she was taking the whole head in her mouth and giving it a hard suck on each forward stroke. This was totally hot. This again surprised me because of the ground rules that had been set, but who was I to complain?

Then she got her vibrator out and lubed it all up inserted it into her pussy. With one hand pumping the vibrator in and out she used the other to massage her now prominent clit. I continued to kneel between her legs and was jacking my lubed up cock. Pretty soon she stopped rubbing her clit and grabbed my prick and started furiously stroking it. I leaned forward a bit and took over rubbing her clit and then I took the vibrator from her and slowly slid it in and out of her wet pussy.

We continued on like this for five minutes or so and then she said she wanted to cum. We both lay there together with me stroking my prick and fondling my balls both drenched in lube, while she went to town with the vibrator in her cunt and her fingers working her clit. In no time at all she had a mind blowing orgasm, letting out several loud screams while her whole body shuddered. She never stopped working herself over and within a couple of minutes she repeated her orgasm and went on to a third one.

Then she said that she wanted to see me spurt. With her lying down, I again was on my knees between her legs and started seriously pumping my cock. I am quite a spurter so I planned on giving her a nice hot load. I had been edging for the past two days ever since we had set this up so I was more than ready. She kept saying how much she wanted to see me cum and that she wanted my hot load splattered all over her.

Finally I could feel it building and reached that point of no return. That's when my fist started really flying up and down my cock. When I knew I was about to squirt, I raised my body up and pointed my cock down directly at her pussy. She had told me earlier that she wanted me to coat her cunt with my cum. I thought I had it aimed right at her cunt but when you are in the throes of an orgasm, who knows what the hell is happening. Anyway, the first shot was a real rope that actually shot up the side of her body coating some of her right tit and shoulder with most of it shooting beyond her onto the bed. The second and succeeding shots I had better control over and managed to get most of it on her pussy or on the bed right in front of her pussy.

I then collapsed on the bed next to her and tried to recover while she mopped up the cum from her and cleaned up my prick with some hand cloths I had conveniently stashed next to the bed. The 1001 Cum Shots movie was still playing so we watched that. We had talked earlier about me possibly cumming twice, which usually is not a problem. So I began to watch the DVD and stroked my prick to coax it back into an erection. She said she was wiped out and unless I had a driving need to cum again, she was ready to call it a night, which was ok with me.

I was hoping for a repeat on Saturday along with my gf but it never happened. Martina told me that she had been in some crazy sexed up mood and had satisfied the urge and didn't need a repeat. She also told me she was engaged to a guy who was sexually boring but that she was going to marry him anyway because he had a lot of money. I don't give that marriage much hope of success. The fact that she was engaged was the reason she didn't want me to fuck her although she admitted that at the time she almost relented. She said feeling my hard slippery prick in her hand and then wanting to put it in her pussy was very difficult to resist.

I talked to her on the phone a couple of times after that but then lost touch. To put this whole experience in the proper context, Martina was a legal secretary who lived in an upscale apartment. To meet her and talk to her you would never in a million years think that she was capable of contacting some strange guy online and setting up a sexual get together. I am really sorry I didn't get to fuck her. I think she would have been a world-class fuck.