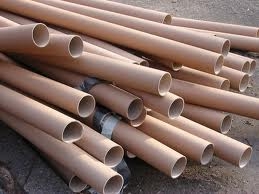 I was 15 years old and had never gone all the way. There was no chance that my strict, Catholic girlfriend Carol would be the first. I really wanted to know what it felt like, but what could I do?
I daydreamed while helping my mother clean up the spare room where we wrapped our Christmas presents. It had been a fun holiday, but the January Hop, a dance put on by my school, was only a week away. I was thinking about how sexy my girlfriend Carol would look in her gown and how far I might get with her that night. I was counting on her wearing something with easy access, because surely she would let me feel her up, and maybe more.
I couldn't wait! The wrapping room was cluttered with the remnants of ribbon, wrapping paper, old present labels and colored tissue scattered everywhere. I filled two garbage bags and as I gathered up hollow cardboard tubes stripped of wrapping paper, my mind wandered again. My mother noticed my vacant look and asked what I was thinking about. I said, "Nothing mom, just wondering what I'm going to do today". The truth was that all I could think of is what Carol's vagina might look like and I tried to picture pubic hair on the end of one of the tubes that I was about to bend and stuff into the trash.
Then it hit me. Could that tube somehow become Carol's inviting little pussy? Why not, I thought. After my cleaning task was done, I had to haul the trash out and my mom would let me go, free to do as I pleased. While finishing that I managed to set aside one of the hollow tubes and secret it away to my room. I locked the door and started to fashion my own, personal, hand-held, jack-off machine, a.k.a., Carol's pussy. I had to remove my jeans and undershorts for testing purposes and I felt naughty being naked knowing my mom was working just down the hall. I had already gathered up supplies; a pair of thick cotton socks, some plastic wrap, packing tape and aloe hand lotion.
With high hopes I began assembly of Carol's make-believe feminine center of love and lust. My little pecker was rock hard at the mere thought that it would soon be penetrating her, even if it was only make believe. I worked feverishly stuffing a cotton sock in the opening and wrapping the excess back around the mouth of the tube. I inserted my penis to test for comfort and further push the sock in to a depth allowing full penetration. I secured the sock by taping it to the outside of the tube. Then the plastic liner was positioned in a similar fashion. Some pre-cum glistened from its surface after testing.
Once all was secured, I inserted my stiff dick one more time. The fit was right, I was turned on, and now it was time to try it out. I wanted to make this as real as possible so I "dressed" my pillow using an old bra I had lifted from my sister's room ages ago. I don't think she missed it at all. I stretched it around my pillow, snapped the back together and stuffed each cup with more socks. When I cupped them they almost felt real. I pulled one of my T-shirts over the pillow and the way the tits stuck out, it sure looked like a girl's chest to me. Then I experimented with placing the tube under the length of the pillow, so when I lay on top, the opening was in the right place below. I ended up having to sandwich it between two pillows to get it right. I stood back and surveyed the "girl" on my bed and I was excited.
My cock was already twitching just thinking that I was about to make love for the first time. I climbed on the bed, knelt over "Carol" and applied liberal doses of lotion to my penis and around her opening. I lay down and began pushing the tip of my dick between the pillows. It found Carol quite easily and slipped in. If I held the end of the tube popping out the top of the pillows, I could thrust below as hard as I wanted and it would stay put. With that adjustment, I started my love-making session. I cupped her breasts and nibbled on the tips. Then I moved up and kissed the imaginary lips that my mind's eye envisioned before me. I said "I love you Carol and I want you." Electric surges shot through my body as it danced over her.
My dick was rapidly moving in and out and the tension built. It felt so good! I kissed and squeezed her wildly and my thrusting got faster and faster. Suddenly my body tensed up all over, frozen in a euphoric paralysis, until my dick started shooting stream after stream of hot semen into her. I let out an uncontrolled grunt with the last spasm and then slumped over her, at rest in complete ecstasy. It had worked and I realized that if my fantasy way of making love felt so great, then the real thing must be amazing. There were many more "Carols" made, but then it finally happened, and I didn't need them anymore. It was amazing!