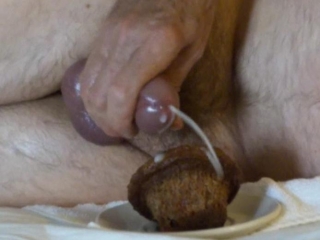 As an experiment I decided to ejaculate over a warm blueberry muffin. Terrific breakfast.
Just a few years ago I was on a summer vacation in Ottawa with a friend, spending the week sight-seeing, visiting Parliament and etcetera. A fabulous vacation, with so much to see and do, as well as an opportunity for us to "monkey around" a bit.
Over the past many years I've tasted my semen – just on my fingertip but not the whole ejaculate – maybe 4 or 5 times. It usually tasted a bit salty, and once even a little sweet.
Anyway, feeling frisky one morning and having been edging for a few hours, I suggested to my friend that I'd like to prepare a special breakfast, a blueberry muffin topped with my own "juice". I wanted to see what it would taste like, as a muffin topping! He's a good camera bug so he pulled out his digital camera set and gave me a few suggestions as to how to "pose".
With that, and following his instructions, I proceeded to get myself near the edge. Then, when I sensed the point of no return was coming I lay on my side and pointed the tip of my penis toward the muffin. Meanwhile, the camera's video-record was going and, with my buddy's astute camera eye he continued to record the entire climax, along with a few seconds following. From the video – several different frames were pulled – one of which shows here. What fun.
Shortly after the camera shoot we had breakfast and, along with coffee, V-8 juice and an apple, I enjoyed the cream-drenched muffin. As it turns out, I couldn't make out the taste of the semen distinctly . . . it just blended in with the muffin taste. . . but all in all, an interesting experiment.
Three days later, still on vacation, I decided to try this again. I was having pumpernickel toast for breakfast and I figured that, after buttering it, I'd ejaculate over it and have that as part of my morning meal. You'll find a pic showing the 'result' in my photo gallery. That's the last time I've done this. I've seen other examples of similar 'experiments' online – guys ejaculating onto a hot dog, or into a watermelon, or on a bagel, or into a drink of some sort – so I guess my own try at this isn't too weird!