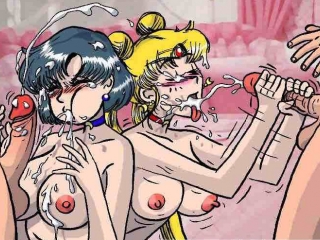 While this story is mostly male/male it has some male/female action as well. Lots of jacking off....
I never did a circle jerk as a kid. In fact I can only remember one experience where I showed my cock to any other boys and that was only just a fleeting moment. Never jacked off with any other kids. My loss.

In fact as I was growing up and well into maturity the idea of any kind of cock play with another man was never contemplated and in fact I considered it kinda sick. But as I got older and had gone through two marriages as well as a great number of different female sex partners I began to wonder if there wasn't something I was missing out on.

By this time the Internet was starting to heat up and the ability to hook up with a willing male partner became much easier. I posted some stuff on a masturbation bulletin board and actually got some replies but the more I thought about meeting a guy on a one-on-one basis, the more timid I got. I was also a little concerned about personal safety. I actually had set up a meeting with a guy and backed out at the last minute because I just didn't feel safe. He had a friend's empty house where we were going to meet. He wouldn't give me the address in advance but wanted to meet me at a nearby coffee shop and have me follow him. At the last minute I cancelled which really pissed him off. The funny part of this experience was he was a participant in one of the group jerks I later organized but did not remember my handle. I never mentioned to him that I was the guy who stood him up.

So I decided that a group deal would be much safer and possibly even more fun.

So I planned a group jerk to be held in one of the local suite type hotels. An Embassy Suite hotel to be exact. Again I posted on a masturbation bulletin board and after a huge amount of back and forth and way more trouble than you would ever think, it was finally put together. Five guys plus me showed up. I am pretty sure they were all straight. Ages ranged from mid twenties to maybe sixty. They all claimed this was the first time they had ever done anything like this.

After a lot of talk we finally got to the action. We did sort of form a circle. Two guys were on the bed and the other four of us were arranged around the bed on chairs. We all stripped down and began to work our cocks. Two of the guys had very impressive penises. One guy called Tom in particular who was sitting directly across from me had a really good looking prick that I was quite taken with.

I had just flown back from Asia the day before and was really jet lagged and to be honest not totally into it. But despite that, I actually was the first guy to cum, shortly followed by the others. I was so beat that as soon as I came, I went home. However, three or four of the guys hung out and I heard later that they all got off a second time. I don't know if there was any mutual jerking but there hadn't been at the initial go around.

I was so impressed with Toms prick that I emailed him about getting together in a one-on-one. Now that I had met him and felt comfortable with the guy, I had no problem suggesting it. It took a few weeks but eventually we met in a hotel and had an excellent session mutually masturbating each other. We even had another first time experience when we sucked each others cocks. I cant really say why but I am positive he had never done it before. I actually had done it once prior but just for a very short period. Enough to know I liked it.

Tom and I got together two more times after that. Once was for a threesome jack off experience with his fiance. She jacked us both off and although she was very shy, she sure did know how to jack a cock. At one point she put both our cocks together and lubed them up and jacked the hell out of them. This was early in the session and both Tom and I called a halt because we were afraid we would cum too soon. The second time we hooked up was for a foursome with my gf and me. This experience was less successful because the first time my gf touched Toms cock, his fiance got visibly upset and that kind of cooled things off. So my gf jacked and sucked me off while they watched. His fiance did get him to cum as well.

I also did a one-on-one with one of the other guys in the circle jerk. We did some cock-to-cock jacking which had always intrigued me. But we ended up finishing ourselves off.

Then about a year later I put together another group jack. Again this was at the same Embassy Suites. Only one of the original group attended. By now I had lost contact with Tom although interestingly enough he turned up on Solo Touch but this was a few months ago before the new format and there was no way to exchange contact info.

We had six guys at this one too. We would have had eight but two showed up too late. They got caught in traffic. As you can imagine, you have to hold to the start time very tightly because once the hard cocks are out, it is very disconcerting to have other guys walk in.

The way I set these up was we all met in the lobby and everyone had to be there by a certain time. Once that deadline hit, we all went to the room. If anyone showed up late, they had no way to know where we were. I purposely did not give out the room number or my cell phone number.

This second group was a real mixed bag. I am pretty sure none of them were gay either. This group jerk was not totally successful. One poor guy just couldn't get hard no matter how hard he tugged on his prick and he finally just got up and walked out. That kind of put a crimp in the action for a few minutes. Then a little bit later another guy had a time problem and had to leave. He did manage to cum before he left but it was way earlier than any of the rest of us were ready. He had only been there about a half hour, which seemed kind of dumb to plan to be in a group jerk for such a short time.

We did have some mutual masturbation in this grouping. I didn't participate because none of the remaining cocks particularly appealed to me. We all eventually got our rocks off and most of us cleaned up and left but two guys who had already cum were still hard and still jacking each others pricks when the rest of us left.

Then maybe another year later I got the urge to do this again. By now I had a steady gf and I talked her into participating. I have written another complete story about this session, which was posted here a few years ago but don't know how to find it. But I will hit the high spots again. This time there were only four of us plus my gf. Again, one of the guys had been in my two previous group jacks. And I am fairly sure none of these guys were gay, just bi, and other than the repeat guy, they all claimed this was a first for them.

My gf started off very shy and didn't want to strip down. But it didn't take long before she realized that she had total control of four guys and pretty soon she was naked and jacking us each off in turn. She would stroke one guys cock for a few minutes and then move on to the next one. I think all told, she circled the room about four or five times and by then we were all ready to cum. One guy had a cock that looked exactly like mine. It was the identical size and shape. I got my gf to put our two cocks together and do a cock-to-cock jack-off. I think the guy was a little shocked at this but too polite to refuse. I could tell he was having trouble with it so I pulled away.

I lay down on my back and had her get between my legs and finish me off. I had a bundle of washcloths available for cleanup and after I came she wiped me down with one. Then the next guy lay down on the sofa and she jacked him until he spurted. This was repeated on each of the other four guys and she cleaned up each cock after the guy spurted.

This was probably the best group jack I experienced. I would love to do it again and although my gf said she really enjoyed it, she wont do it again. She has no problem if I want to do one and maybe I will. Except they are a lot of trouble to organize. Lots of guys express interest but most are no-shows. I think one of the main attributes of a group jack-off is it is a very safe environment and is an excellent place to meet guys who you might want to hook up with later for some one-on-one sex.

I actually went to one other group jack that I found advertised on a masturbation bulletin board but the whole thing was just way too gay for me and I lost my hard-on so I pulled up my pants, apologized for being a party pooper and went home. There were three other guys and they were glad to see me go because they could tell I wasn't into it. I was married at the time and my wife knew what I was doing. She was surprised to see me come home so early and I told her what happened so she jacked my cock and blew me. So I still had a happy ending.