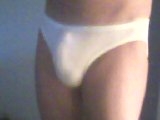 sister caught me in her panties
The beginning of this story and getting caught are true. what happened after is fantasy. Enjoy!

It was a school vacation week. Both my sister and I were in high school at the time, I was a sophmore and she was a senior. Both mom and dad were at work. My sister Michelle had gone to cheering practice leaving me home alone. Being a horny teenager I couldn't help myself what being all alone. Let me start by saying that Michelle is exactly what you would expect a cheerleader to look like. She was about 5' tall had long curly brunette hair a nice ass and huge boobs. Even though she was my sister I thought she was hot. So I went into her room, thinking I would be alone for a while. On the floor beside her bed I found a pair of her panties. I held them to my face and inhaled deeply. they smelled wonderful. As I held them, I also noticed how smooth and soft they were. I wondered how they would feel to wear. I wasn't even sure they would fit but as I slipped them on, I discovered they fit perfectly. The feeling was amazing. My cock grew instantly in the soft satin fabric of her panties. I stood there looking at myself in the dresser mirror admiring how I looked wearing her lacy panties. I then found a pair of her tights and decided to put them on as well. Once again the smooth fabric against my skin felt wonderful. My cock grew even harder. The panties could no longer contain my erection with my throbbing cock head poking out of the top of the waistband.

I stood there stroking my hard cock through the satin panties watching myself in the mirror getting ever more horny and close to cumming. I guess in my self involvement I didn't hear anyone entering the house, because out of nowhere i heard a loud voice screaming"WHAT THE HELL ARE YOU DOING?" It was my sister Michelle standing in the doorway to her room that I was in wearing her panties and tights and stroking my cock. All I could do was just stammer out "uh uh I'm sorry" She said "Sorry? what the hell you little perv..Get out of here!" I tried to get past her as fast as I could but then she stopped me. She said " take off my stuff first. I didn't know what to do so I just complied. As I took off the panties and tights I noticed that despite my horror of being caught, I was somehow still hard. She obviously noticed as she said "oh my god you are still hard you horny little bastard...get the hell out of here". with that I went back to my room. i closed the door and felt my heart pounding as to what just happened. I probably should have just gotten dressed and left, but I was still so horny I felt that I had to finish what I had started. I sat on the edge of the bed and started stroking again.

The next part of this story is the fantasy of what I wish had happened next.....As I sat there stroking my cock. Michelle came into my room. In my mind I was telling her to get the hell out, but somehow my horny brain took over and just kept stroking. She just stood there watching me. She asked me how long I had been wearing her things. I told her it was the first time. She said she didn't believe me and called me a liar. I tried grabbing the bedsheet to cover up but she said " no don't bother covering up now" " So you like dressing up girly do you"? she asked I mumbled no and she said "ya I think you like being a sissy girl and playing with yourself don't you"? I turned red and said" Ha I knew it little brother is a sissyboy" " Well if you want to be girly then let's make you the little sister I always wanted" What do you mean"? I said as she took me by my hand leading her back to her room. As I walked in I saw on her bed she had laid out a set of panties, bra, stockings and high heels. She pointed at the things on the bed and said OK get dressed" I was so nervous and horny at the same time i was trembling. She came to me and said "let me help you" and helped me with getting dressed. She took my hand again and led me to her dresser, sat me in her chair and proceeded to apply make-up to me. It felt like forever as she made me up, my cock raging to burst out of her panties. "almost there" she said as she went to her closet and came out with a blonde wig from a costume she wore last year.

She put it on me and we both looked at the girl in the mirror. She stood me up handing me the high heels. I put them on and looked at myself again. I was so fucking horny by this time I thought I was going to explode. Just when I thought I couldn't get any more aroused, she took off her clothes. Next she started fingering herself and she was already wet as I could hear the wet slurping from her fingers entering her pussy. she held me close kissing me passionately on the lips while still fingering herself. Her free hand found it's way to my ass. she rubbed softly and worked around to my panty covered bulge. with her long fingernails she stroked my panty bulge. I writhed in ecstasy I had never felt anything so amazing. that was until she dropped to her knees and gave me an incredible blowjob, I came in her mouth and she swallowed every drop. As I did she writhed in front of me, moaning and cumming on her fingers.