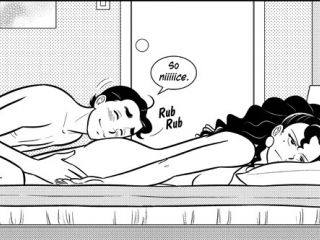 After reading stories on ST for years I decided time for me to write about my experiences. My stories will always be true stories written as best as I can recall them.

Caught by friends mom: Part 1
A few years ago my wife and I were going to visit our friends Chris and Kelly. It is usually a 7-8 hour trip when we go straight there, but this time we were meeting them at Kelly's moms first then heading to their lake house the next day.
For some strange reason anytime I travel I get extremely horny. My wife would make it worse by making sexual comments, and occasionally reaching over and playing with me.

We arrived at Kelly's parents house around 7:30 PM and after the usual greetings her father got the grill going and we had some food and beers. My wife would continue to tease me and occasionally reach up my shorts and grab my cock (I always went commando) and get me hard, then ask me to get something to drink or eat knowing I would have to try to hiding my erection while walking past everyone. I later found out that Kelly's mum knew about my wife doing this and her mother made a comment about me being very consistently aroused.

We all turned in around 11:00PM. The house was not a very big house and all the bedrooms were on the same side of the house. Now normally once our bedroom door shuts I rip my wife's clothes off and we have some pretty sensational sex. I knew we would have to be quiet since the bedrooms were so close, but that was adding to the excitement. I started removing her shorts and was dying to bend her over and let my tongue go to work on her ass before I move to her neatly trimmed pussy. I was already out of my shorts with my cock so hard it was beginning to hurt. She then spoke those words no horny naked guy want to hear. "WE CAN'T"!! Well I wasn't accepting that and tried to continue. She stopped me and said "no the rooms are too close and everyone will hear us". She was right you could hear people in next room breathing. Besides she says she was tired and would love to see how horny I would be when we made it to the lake house the next day.

I really did try to get to sleep. I could hear Chris and Kelly's father snoring. My wife was sleeping but I still had a hard dick and there was no way I could get to sleep. I decided the best thing to do would be go to the bathroom on the other end of house and relieve myself. I made my way to the bathroom as quietly as possible. Once the door was shut I found some lotion in a cabinet poured some into my hand and wrapped my hand around my throbbing cock. It felt so good as I stood there sliding my lubed hand up and down my aching member while watching myself in the mirror.

I wanted to cum quick but it was feeling so good I wanted to play longer. Then the door opened and Kelly's mom was standing in hall poking her head into the bathroom. I was startled and stopped stroking but couldn't let go of my cock. I was trying to come up with something to say but all I could get out was sorry. She was still standing there with only her head poking in and said "oh no, don't be sorry I heard you going down the hall and thought you were still hungry and in the kitchen". By now I managed to remove my hand and did attempt to hide my now shrinking penis. She said "please don't feel bad, I heard you in here and wanted to see. I was going to just walk in and act surprised but as I was opening the door I lost my nerve, I am sorry but I have never seen a man masturbate".

My heart was now pounding a mile a minute. I don't know why it started just now and not when the door opened but I also got that familiar feeling of blood rushing into my semi rigid member. Then she said the words I have never thought I would hear. "Would you mind if I watched you"? Well that made me go from semi to full blown erection in a second. I said "yes" and she stepped into the bathroom and closed the door. She is not a MILF but for a woman in her late 50s she did hold up well. She was wearing her night shirt with pj shorts. I asked her what about her husband, she said "Harry sleeps like a log and snores so loud no one would hear anything but him snoring". Then went on to say "I know he must masturbate but he never admitted it and I have never caught him or evidence of it".

I didn't waste any more time and applied more lotion and started stroking. I would watch myself in the mirror and watch her looking at me stroking. She just stood there watching my hand slide up and down my shaft and my occasional grabbing of my balls. Her eyes would go back and forth between my eyes and my hand stroking my cock. It didn't take more than a few minutes when I started to shoot my load all over the sink and counter. I came so hard and a lot. Her eyes never left my cock from the time I started to cum till I stopped stroking and let my still hard cock rest on the counter. She then smiled at me said "thank you, and make sure you clean it all up", then she walked out and closed the door.